The 5 Best Baby Bottle Warmers
Because a hungry baby is a screaming baby.
by Donna Freydkin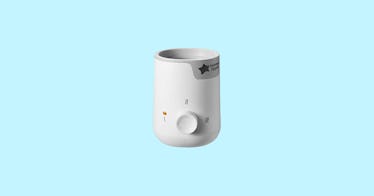 You're in the new parent purgatory that usually takes place between 3 a.m. and dawn, and you're standing in your kitchen, holding a screaming, writhing, hungry baby while trying to warm a bottle under scalding running water. We've been there. We don't recommend it — especially when baby bottle warmers can do all the thinking (and work) for you.
Of course, you can prepare formula, with room-temperature water, when it's time to feed the baby. But if you want to minimize middle-of-the-night tasks, you'll prepare the formula ahead of time, in which case it will be in the fridge — and really, really cold. And if it's pumped milk, it will also have separated. So, while a bottle warmer isn't absolutely necessary, it's the fastest way to warm up milk that needs warming.
(One common-sense thing worth noting here: Never warm a bottle in the microwave. The bottle itself may feel cool while the formula or milk inside can be too hot, and heating something in the microwave results in uneven heat distribution. )
When choosing a bottle warmer, a few things to keep in mind: Pay attention first and foremost to how long the warmer takes to work. When dealing with a screaming infant, speed make all the difference. Do you want a portable bottle warmer, that you can use mostly out of the house? Are you short on counter space, making a small footprint preferable? And if you're not particularly tech-savvy, do you want something on the more analog side? Here are the five best in class bottle warmers, including one fantastic portable bottle warmer.
Every product on Fatherly is independently selected by our editors, writers, and experts. If you click a link on our site and buy something, we may earn an affiliate commission.