The Best Back-to-School Art Supplies And Accessories
That stuff will be worth something, some day.
by Dave Baldwin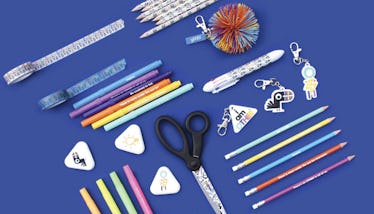 For more awesome stuff your kid totally needs for Back To School, check out our full buyer's guide here.
For as much as kids hate going back to school, they sure don't have a problem getting excited about new art supplies. Especially when said new gear includes ninja pencils, Star Wars notebooks, and all the other cool stuff found on this year's back-to-school checklist.
Back-to-School Art Supplies for Younger Kids
Star Wars Trapper Keeper 1.5-Inch Binder
If only it was socially acceptable to bring a Star Wars Trapper Keeper to work. Pretty much exactly as you remember it from grade school (which is awesome), this durable R2D2 binder snaps shut, has two inside pockets, and can hold up to four folders or notebooks – or one set of Death Star plans.
Stealthy Ninja Pencils
For students who prefer their writing implements to be trained in the traditional Japanese arts of stealth, camouflage, and sabotage, these black #2 pencils feature the words "Hi-Ya!" below a ninja mask and could probably be turned into a tiny pair of nunchucks with a little ingenuity.
In Class Toddler Desk
For the discerning toddler who wears black turtlenecks and aspires to attend RISD, this white mod kid-sized "personal work station" (oh, they grow up so fast) is made of wood and includes an open storage compartment for ninja pencils, watercolors, and books on Daniel Libeskind.
Crayola Write Start Colored Pencils
These pencils are hexagonal shaped and have extra-thick, 5.3mm lead, so they're easier for small hands to hold and create strong imprints even for tentative newbies still figuring out this whole "writing" thing.
Yoobi Art Bundle
Keep your future Warhol focused on his art (and not on throwing raging cloakroom parties) with this back-to-school art kit that includes everything from crayons and watercolors to washable markers and even a sidewalk brush pen set. Campbell's Soup and super models not included.
Back-to-School Art Supplies for Older Kids
Better Together Note Pouch v5
It may be billed as a notebook "pouch," but the nylon Better Together is by far one of the more organized MacBook/iPad cases on the market. With its slew of internal pockets for everything from pens, pads, and phones, to its convenient carrying handle, to a choice of four colors, you'll likely buy one for your kid before realizing that you and it are actually… better together.
Star Wars Trapper Keeper Wide Ruled Notebook
Seriously, if somebody told you in 5th grade that your kid would be using a Star Wars notebook 30 years later, you'd have probably been like, "No duh, Star Wars is awesome." And you would have been correct – clearly, you were strong with the force when it came to predicting future organizing trends. These Darth Vader and C3P0-themed 3-subject notebooks are indeed still around and fit handsomely inside your R2D2 Trapper Keeper.
'Practice Makes Awesome' Pencils
Remember those boring No. 2's? Slap an empowering slogan on them and suddenly they become a whole lot more awesome. Just like your kid, who has been practicing hard on their penmanship all summer. The only thing that could add more awesome would be LEGOs …
WAFF Silicone Notebook
BOOM. Wouldn't you have paid more attention to your studies if you could have done math, created characters, and learned to read by building with number, color, and letter bricks on your notebooks? Yes. Yes, you would have.
Yoobi Traveling Techie Teen Bundle
Everything your budding Kerouac needs to settle in at the local coffee house, Yoobi's Techie Teen Bundle fits in a convenient pencil case and comes with ear buds, colorful gel/ballpoint pens, and three dream journals/sketch pads (sorry, mini composition books). They also throw in a random luggage tag in case he decides the coffee at this place sucks and he really should get on the road.
Sugru Moldable Glue
Instead of, "If you can't 'Duct' it, f–k it," use this flexible silicone super adhesive and say, "If you can't do it, Sugru it!" A love child of the aforementioned do-everything tape and Play-Doh, Sugru is ideal for repairing beat-up old toys your kids would otherwise demand be replaced, as well as everything you break trying to fashion homemade toys for your kids to beat up.
This article was originally published on