Ready for Happy Hour? The Barsys Coaster Is Your Own Personal Bartender
It helps you become a master mixologist. At home.
by Jon Gugala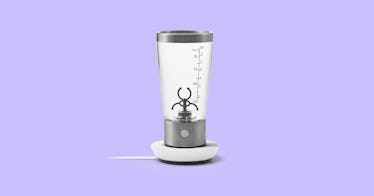 So it's that time of day and you're craving a perfect old fashioned or mojito. You could Google the ingredients and then wing it. Or, you could let the Barsys coaster, a virtual bartender the size of a hockey puck, guide you to a flawless mixed drink at home. It shows you countless complex or easy alcoholic drinks to make at home. And while it won't ever replace a legendary bartender like Dale DeGroff, it will at least make social distancing and sheltering in place that much more tolerable when you can't swing by your local for a drink.
If you're the type of guy who's still enjoying cocktails in quarantine, then the Barsys coaster is the best way to master some of your favorites, or simply hone your bartending skills. This smart device takes the waxed mustaches and suspenders out of the equation while delivering the precision a perfect drink demands.
To get started, you download the app, which works on an iOS or Android device, and pick your poison of choice. There are 2,000 drinks to choose from. Then, you place your rocks or highball glass on the inch-thick coaster, and follow along through the connected app on your smartphone.
As you pour in the various ingredients, the coaster's lights change color to indicate when to start and stop pouring. The coaster illuminates in several colors as more liquid is poured in, and when it goes green, you're good to go. Each ingredient is precisely measured, and at the end (and with a quick stir or shake), you've made the perfect drink.
At about five and a half inches thick, the Barsys coaster easily accommodates all types of single-serve glassware, but it can also handily measure pitchers if you're in the mood for margaritas. You can also add or modify recipes if you're a cocktail renegade.
A great Sidecar, or Long Island Iced Tea, is now within reach, even when you don't have access to your local dive or speakeasy. All it takes are a few of your favorite ingredients and a few flashing lights.
Every product on Fatherly is independently selected by our editors, writers, and experts. If you click a link on our site and buy something, we may earn an affiliate commission.