The Best Backyard Games Come From Scandinavia
Think cornhole is fun? Try a game of Kubb or Mölkky and get back to us.
by Fatherly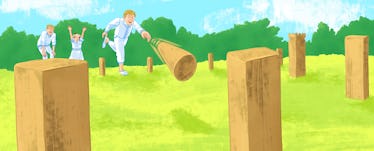 Ivy Johnson for Fatherly
The best backyard games, the ones that earn a coveted spot in your warm weather rotation, are casual activities that work as well for crowds as they do for one-on-one matchups. While we won't ever turn down a game of cornhole, kanjam, ladder toss, and horseshoes, the best backyard games and lawn games come from Scandinavia. Why? Simple. Because of their soul-witheringly long winters, Scandinavians know how to celebrate summer. That celebration often includes participation in simple, fun games that lend themselves to hours of time on that oh-so-important sunlight. The games on this list exist are those that require you to throw one thing at a set of other things. They're easy to pick up but still require skill and, when the time is right, lend themselves to serious competition. Think cornhole gets competitive? Try a game of Kubb or Mölkky and get back to us. Here are a few games to consider adding to your backyard this summer.