This Inflatable Wiffle-Ball Backstop Puts And End To Arguing Balls And Strikes
Better still, the lightweight BacKstop is easy to take to the beach or park.
by Dave Baldwin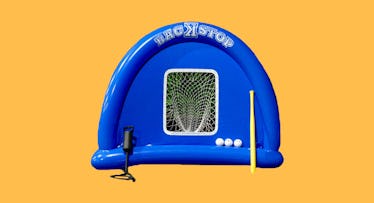 Sorry Corn hole: Wiffle Ball is truly America's favorite backyard summer past time. But if the popular plastic baseball has one tiny drawback, it's that it flutters and curves so damn much that calling accurate balls and strikes is tough. Eventually, you and your buddies will argue over whether or not that curveball crossed the plate. It doesn't have to be though, thanks to the BacKstop To Go: an inflatable catcher-umpire designed to forever end the ball or strike debate.
Created (and patented) by a dad of three from Massachusetts, BacKstop is a new twist on the classic net baseball screen. Instead of using heavier springs, wood, or PVC piping, however, the lightweight five-foot-wide and four-foot-tall backstop inflates using a simple pump (included), just like any pool float or air mattress. That makes it easy to take to the beach or park. Better still, it has both a large surface off which the ball can bounce back into the field and an integrated strike zone net in the middle. If the pitch ends up in the net, strike one, two, or three ⏤ no questions asked. In windy conditions, the BacKstop can be anchored by filling the base with water instead of air.
The BacKstop is designed for use with Wiffle balls and other hardball substitutes and is sold as a full kit ⏤ with either a traditional yellow bat and three balls or big red bat and three softballs ⏤ for $50.
This article was originally published on