The Best Lunch Boxes For Back To School In 2016
Make every lunch a Happy Meal.
by Dave Baldwin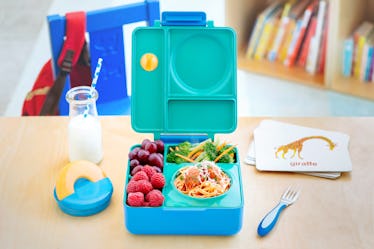 For more awesome stuff your kid totally needs for Back To School, check out our full buyer's guide here.
Because there's no way you're going to let Junior actually use that vintage Star Wars Sandspeeder lunchbox sitting on the living room shelf (it's a collectible, dammit), here are 12 equally as cool bags, boxes, and containers in which they can tote their Lunchables to school.
YOUNGER KIDS
Ore' Originals Polar Pals Lunch SackIf the frosty-themed exterior – Polar bears! Penguins! Eskimos! – is any indication, expect the food inside this fully insulated Polar Pals sack to stay very cold. And if your future Shackleton really digs the icy graphics, you can go all-in on the matching sippy cup, suction plate, bib set, or backpack.
Wonder Woman Insulated Lunch Box With CapeThis collapsible Wonder Woman lunch box from Thermos rocks its own cape. A cape! And if that's not enough, the simply stated "WW" winged graphic ensures you're not sending your 5-year-old to school toting an over-sexualized picture of Lynda Carter on her bag of snacks.
Skip Hop Zoo Lunchie and Bottle SetBecause a kindergarten classroom is anything if not a zoo, pack your kid's snacks in one of Skip Hop's insulated animal-themed (Moose, Giraffe, Unicorn) lunch bags complete with an attachable flip-top straw bottle and handle that clips to their backpack.
Milkdot Stöh Lunch ToteAll you need to know is this bag-style cooler has a magnetic handle, water-repellent finish, and a closed-cell, foam-lined interior that's good for up to 6 hours of cold food and drink. All your kid needs to know is that it has adorable smiling ice cream cones and cupcakes on it.
OmieLife OmieBoxYour kid will blow minds in the cafeteria with the OmieBox, which has an insulated, sealable bowl that keeps food hot or cold without spilling — or removes completely to make way for a tasty sandwich. It's leakproof, has removable dividers to fit different sizes and types of foods, and possibly could have changed the whole trajectory of your childhood had it been available in your lunchroom days.
Land of Nod Wild Side Lunch Box, BearIn case the cafeteria wasn't wild enough, add another animal to the mix with this artist-designed Bear box complete with mesh water-bottle pouch and molded-plastic interior for all the berries your little Grizzly cub can eat.
OLDER KIDS
LunchBots Trio 1No, unfortunately, this three-compartment stainless steel container doesn't transform into a flying robot that can convince your kid to eat carrot sticks. But, it does have a colorful plastic snap-on lid. And it's dishwasher safe, so there's that.
Thinksport Go2 Travel ContainerIt's pretty easy to keep 3 foods from touching one another in a lunch container. But what about three liquids? Not so simple, right? Well, the Go2 uses a fitted silicon matrix lid and three-compartment stainless tray to do just that, ensuring that no juice from your green beans mixes with your red jello. It also rocks a sweet fork/spoon set that tucks away under the lid.
Goodbyn ByntoEverybody knows that you have keep some foods separated (lest they fight like kids on a road trip) – nobody wants to eat apple slices that taste like liverwurst (also, how did you get your kid to eat liverwurst?). The Goodyn Bynto does just that thanks to three different-sized compartments. And if you really don't want two foods even looking at each other, the middle section holds an eight-ounce drink bottle (sold separately).
Takenaka Bento Box DeepNo doubt as useful for toting lunch to school or work as it is for burying valuables in the back yard, this heavy duty Japanese-made Bento box is 2.6 inches deep, comes in myriad colors, and even has a removable partition in case you're only eating one type of food and/or hiding several porcelain ballerina figurines.
Herschel Supply Pop Quiz LunchboxJust in case that Dead President's t-shirt you sent your son to school in isn't getting the point across (we get it, you're hip!), put his foie gras in this vintage-inspired striped lunch box. Not only does it have an insulated, easy-wipe main compartment and an exterior zip pocket, but the fine leather detailing is certain to catch his teacher's eye.
Want tips, tricks, and advice that you'll actually use? Click here to sign up for our email.
This article was originally published on