The Best Tech For Back To School In 2016
Screen time you can get behind.
by Dave Baldwin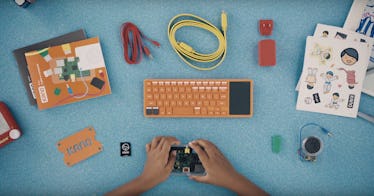 For more awesome stuff your kid totally needs for Back To School, check out our full buyer's guide here.
Regardless of where you come down in the "more or less technology" parenting debate, you can't deny that some gadgets will definitely help make your child smarter. Or keep them safer. Or just help you avoid losing your mind as you try to make them smarter while keeping them safe. You get the idea. These are 12 of those gadgets.
Best Back-To-School Tech For Younger Kids
Amazon Fire HD 6 Kids Edition
Amazon's HD, quad-core, dual camera, Dolby Audio powerhouse comes with parental controls and a year of unlimited access to thousands of books, movies, shows, educational apps, and games through Amazon FreeTime Unlimited. More importantly, it'll survive (or get replaced for free for 2 years) if your kid smashes the crap out of it, which they definitely will.
Tiggly Words
You've seen Tiggly around these parts before, and there's a reason: It's the only tactile iPad app toy endorsed by the street (Sesame, that is.). One of the app's stars is Cookie Monster (who could benefit from some language lessons himself) and uses cookies as the building block of spelling knowledge. Cookies — is there anything they can't do?
Fisher-Price Think & Learn Code-A-Pillar
Fisher-Price wants to turn your toddler into a tiny coder (it's less sinister than that sounds). Each colorful segment of this little toy caterpillar controls a different action, like blinking lights or turning in different directions. Your kid puts it together in any sequence they want and then lets that bug do its thing — which unfortunately does not include the metamorphosis into a butterfly. Watch, in 15 years all the kids are going to be coding in Insect.
HereO
HereO is billed as the first GPS and cellular urchin tracker designed to be worn comfortably by kids as young as 3. It can be programed with geo-fenced safe zones that alert you if your kid leaves them, as well as a customized gesture that your kid can use to automatically notify you if, say, Bobby stole their ice cream again. Hey, if the invisible fence worked for the dog, might as well give it a shot on the kid.
Technology Will Save Us Electro Dough
It's exactly what it sounds like: electronic play dough. Except your kids won't get shocked. This DIY science kit from Technology Will Save Us includes 4 tubs of conductive dough, stickers, tech tattoos, and even an inventor's sketchbook, and is designed to teach kids as young as 4 to see tech as a tool for making useful real-world stuff (like an octopus that lights up!), rather than something just to eat.
Invoxia Triby
This web-enabled Bluetooth speaker can turn your kitchen into mission control, overseeing all the scheduling chaos that back to school creates. It pairs with phones for hands-free calling and you can send messages to its e-ink display from anywhere vian an app that even lets you scribble with your finger instead of type. Invoxia claims a month's battery life, too, but its coolest technology is its simplest — the magnet lets you turn any refrigerator into a "smart" refrigerator for a tenth of the cost.
Best Back-To-School Tech For Older Kids
LG GizmoPal 2
Slap this colorful watch-phone on your kid's wrist and keep tabs on him without circling overhead like a damn Huey. The simple-to-use, two-button GizmoPal 2 from LG tracks your child's location, makes and receives calls (from up to four numbers), and even auto answers after 10 seconds so you can listen in as he dominates in dodgeball.
AgIC Circuit Marker
Because nobody has time to drive to Radio Shack anymore (yes, they still exist), skip the electronics set and snag your future Nikola Tesla one of these markers that conducts electricity instead. Thanks to its silver-based conductive ink, STEM-savvy students can literally draw their own electric circuits on AgIC's proprietary paper (without wires, soldering, etc.) and then connect the lines to any number of components – be it a battery, a light bulb, or anything else that they use to sell at Radio Shack.
Chibitronics Circuit Stickers
Then again, if drawing your electric circuits (or you know, making them out of Play-Doh) is too tough, this ingenious kit lets kids make working circuits using nothing but stickers. It don't get no easier than that.
littleBits STEAM Student Starter Kit
For the uninitiated, littleBits are electronic building block kits full of buttons, triggers, switches, wires, batteries, motors, LEDs, and more (the "Bits") to encourage your kid (the "little") to invent all the things. The STEAM Student Set has all that, with 19 Bits and 38 accessories, but it's educator-focused to ensure school kids are inventing real-world solutions, not paper airplane tossing machines. That'd be a waste anyway; those already drive themselves.
MakeyMakey
A mini circuit board or USB stick that turns anything into a touchpad might be the very definition of "Maker Toy." It even has "Make" in the name — twice! What makes the "world's first go-anywhere invention kit" the raddest is the endless possibilities. Banana keyboard? Check. Jell-O joystick? Done. SmartPie Selfie camera that automatically snaps a photo when your kid takes a cream pie to the face?? Yeah, that's probably worth 25 bucks.
MakeyMakey Kit
MakeyMakey Go
Kano Computer Kit
Everyone knows Nintendo 64 is the best ever (YASSSS!), but how does it work? You never learned, but your born-online should, and this build-and-program-it-yourself computer kit helps them do so. Kids age 6-14 "level up" through the story-like instructions by learning to add functionality like internet browsing, and tweak games like Minecraft, which you still don't need to understand.
This article was originally published on