The Best Backpacks For Back To School In 2016
It's Fatherly's 2016 Back-To-School Buyer's Guide!
by Dave Baldwin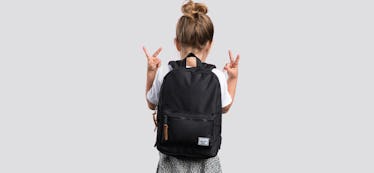 For more awesome stuff your kid totally needs for Back To School, check out our full buyer's guide here.
There are few better ways to trick your kids into lugging around their own stuff than buying them a new backpack. And to really sell them on the idea that toting heavy books is fun (!), that backpack needs to stand out. Which is why we've put together 12 of the coolest and cutest, hippest and high tech, bags on the market for all age ranges.
YOUNGER KIDS
Herschel Supply Heritage Backpack Because accidentally showing up to work toting your kid's backpack is embarrassing ("Wait, PB&J for lunch… again?!?!"), this kid-sized version of Herschel's Heritage Pack rocks the same features (striped interior lining, front pouch, leather zipper pulls) as your favorite bag but is thankfully adorned with colorful ice cream cones and popsicles so there's no confusion.
Teachers Pet Backpack, Fox No, your little one doesn't have to be into talking animals or Norwegian dance tunes to enjoy feeding his backpack pencils and animal crackers. Made of durable polyester with a zippered front pocket, the artist-designed Fox backpack will have your kid saying "Ring-ding-ding-ding-dingeringeding!" (or whatever the fox actually says these days) all the way to pre-K.
The North Face Mini Berkley Backpack For that hip, trendy toddler who wants to carry his latest manuscript/ kindergarten dissertation everywhere, this vintage North Face pack is pretty much a smaller version of the classic college tote, just "reimagined" (read: resized) for kids. Very hip kids. Who listen to the Wiggles on vinyl. And hang out at third wave coffee shops.
LittleLife Ladybug Toddler Backpack Thanks to this aerodynamic-looking bag, there is officially no excuse to send your little ladybug to preschool looking like anything other than a ladybug. Well, unless your little ladybug is actually your little butterfly. Or bumblebee.
Crew Max The Monster Backpack If kids can get a mini version of a 40-year-old go-to for ergonomically conscious European adults, it seems only right that grownups should be able to buy a full-size version of a backpack with glow-in-the-dark googly monster eyes. And yet, somehow, true equality still eludes us.
Fjallraven Kånken Mini Daypack Not much has changed about this icon of functional Swedish design since 1978, which is probably why it remains an icon of "vintage" hipster style in 2015. The Kanken isn't just about looks, though. It eases the burden on the back by distributing weight equally across both shoulders — because all those snacks can get pretty heavy.
OLDER KIDS
Osprey Koby For the outdoorsy kid who'd rather climb Mt. Washington than the school jungle gym, this high-tech daypack comes in three colors (playful purple, anyone?) and rocks side-mesh pockets for two water bottles, just in case she gets parched hiking to math class. It also includes an attachable "blinker" light, so your child doesn't get lost in the dark and/or can turn safely at the trail intersection.
Burton Youth Metalhead Backpack Not at all a backpack targeted exclusively to young Dokken fans, Burton's Metalhead is another one of those sweet grown-up packs that's been shrunk down to fit on a little person's back. A little person who also needs an insulated drink pocket, laptop sleeve, and fleece-lined "sunglasses/electronics" pocket in which to stash an iPod loaded, of course, with Breaking the Chains and Shadowlife.
Deuter Kikki Backpack These packs are spacious, sturdy, and more deserving of a "technical" descriptor than pretty much any other backpack designed for a first-grader. As in, "It's by far the cutest thing anyone in the class will ever wear, but technically it's a backpack."
Herschel Supply Settlement Backpack See the Fjallraven and raise it a few years (and inches). Keep your kid marching confidently down the path to hipsterdom by having them carry their schoolbooks in a medium-sized version of the bag your IT guy uses to carry his laptop while biking to work.
Patagonia Kids' Bonsai Backpack If after looking over Patagonia's high tech, tot-sized day pack you still haven't noticed the pattern developing here, it's this: kids have way cooler backpacks these days than leather-bottom Jansports. And, if the kid in question has the Patagonia Bonsai, then they even have built-in organizers, so they also don't have to lug around Trapper Keepers.
This article was originally published on