Baby Yoda Night Light Lets Your Child Fall Asleep With The Child
It's coming just in time for season two of 'The Mandalorian.'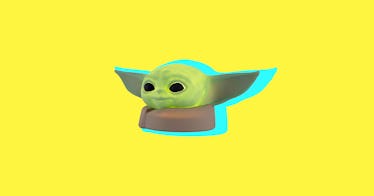 Yoda is a combination of a wise spiritual leader, experienced teacher, and grandfatherly figure. And yet, Baby Yoda somehow manages to be even more comforting, an adorable creature with supernatural powers, massive eyes, and a heart of gold. It's only natural that such a comforting figure is about to become a comforting night light. What better way to soothe your kid as they fall asleep than with a Star Wars character that was designed in a lab to be as comforting as possible?
Made by Jasco Products, the officially licensed The Child Night Light is a silicone reproduction of a smiling Baby Yoda's head perched atop an LED light base that looks like the collar on its robes. It would make a solid gift for a Mandalorian-loving kid or adult even if it weren't a great light, but it sure looks like it will be.
For one, this thing is powered by either three AAA batteries or an included two-foot micro-USB cable that plugs into a wall adapter (sold separately). You can leave it plugged in at home so if you go on a family trip and you want your kid to have their comforting light, you can use battery power. And don't worry: it shuts off after an hour in battery mode so you won't go through AAAs like The Child goes through frogs.
There are also two brightness settings, and switching between them is as easy as tapping the base. That means you can read your kid a story before bed in high brightness mode and then tap the light on your way out to change to more sleep-friendly low brightness mode.
The Baby Yoda night light will be released on September 9, but you can pre-order it on Amazon now so you'll have it in time for the October 30 premiere of season two of The Mandalorian.
Every product on Fatherly is independently selected by our editors, writers, and experts. If you click a link on our site and buy something, we may earn an affiliate commission.
This article was originally published on