All the Baby Strollers That Were Recalled in 2017
Five strollers were reported to have dangerous design flaws in the last 13 months.
by Dave Baldwin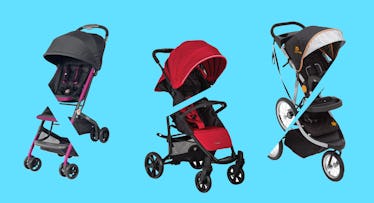 Around 17,000 kids under the age of five years old land in the emergency room every year due to stroller- or baby carrier-related injuries, according to a 20-year study released last year in American Pediatrics. And while many are the result of falls or parent error, a number are caused by strollers with design defects. Strollers that shouldn't be on the street.
RELATED: The Most Dangerous Toys and Baby Products Recalled in 2017
In fact, every year, more than 100 toys and kids products are recalled due to defect. And even though most recalls are voluntary, companies are rarely inclined to shout their foibles from the mountaintop. As a result, few parents ever hear about them. In fact, only 30 percent of recalled products ever make their way back to the manufacturer. Instead, they are handed down to other new parents, find their way into consignment shops, or end up on Goodwill shelves where they can potentially harm other children.
ALSO: All the Car Seats that were Recalled in 2017
Last year, by all measures, was a good year for strollers. There were only three issued recalls affecting four models and 758,000 individual strollers. That said, a number of children (and parents) were injured as a result. Defects ranged from breakable legs to hinges that disengage to full strollers that inexplicably fold up while you push them down the street. All were fixed with free repair kits or were replaced. That said, unless you sent in your registration card when you bought the seat, the onus is on you as the parent to contact the manufacturer. Hence, this list you need to check.
Delta 'J Is For Jeep' All-Terrain Jogging Stroller
Hazard: The Stroller Leg Bracket Can Break
Number Recalled: 28,000
Action to Take: Contact for Repair
Contact: deltachildren.com, 800-377-3777, recall@deltachildren.com
So far, there have been four reports of the leg bracket on Delta's 'J Is For Jeep' all-terrain jogging stroller breaking and one child getting dinged up (cuts and bruises) in the process. This stroller recall affects 28,000 models (serial numbers 11998 and 11988) sold between August 2015 and August 2016. Owners should stop using the stroller immediately and contact Delta for repair information. Full Recall Details
Combi Shuttle Travel System
Issue: Car Seats Can Disengage From Stroller Frame
Number Recalled: 1,000
Action to Take: Contact for Repair Kit
Contact: Combiusa.com/, 844-332-6730
This recall affects both the Combi Shuttle car seat and stroller, model number 6100027 or 6100100, in titanium and red chili colors. Individually, both products are safe but should not be used together, as the seat can disengage from the stroller. A repair kit consisting of straps to secure the car seat to the stroller is available free of charge. Full Recall Details
Britax B-Agile and BOB Motion Strollers With Click & Go
Hazard: Car Seats Can Disengage From Stroller Frame
Number Recalled: Over 700,000
Action to Take: Contact for Repair Kit
Contact: us.britax.com, 844-227-0300, Stroller.Recall@britax.com
These two strollers from Britax and BOB ⏤ which were sold at Target, Toys 'R' Us, and other large chains ⏤ have caused 26 recorded injuries (including scratches, bruises, cuts and bumps to the head) due to a faulty attachment system that allows the car seat to fall to the ground. Of the 700,000 sold in North America, there have been 1,337 reports of damaged Click & Go receiver mounts. While the car seat is still safe for use inside the car, consumers have been advised to stop using it with the stroller until requesting a repair kit. Full Recall Details
Aria Child GB Qbit Lightweight Stroller
Hazard: Folding Side Hinge Can Lacerate Hand/Stroller Can Fold Unexpectedly During Use
Number Recalled: 29,400
Action to Take: Contact for Replacement Stroller
Contact: ariachild.com, 888-591-5540
This stroller was actually recalled at the tail end of December 2016 but bears mentioning, as it had two specific issues. First, the side hinge was a laceration hazard and could cut the caregiver's hand as they folded it up. Second, it can randomly fold without warning while in use, causing the child to fall out. Four parents were forced to get stitches as a result of cuts caused by the hinge, and there were 71 reports of strollers closing. The recall affects around 30,000 strollers sold in one of five colors between May 2015 through November 2016 (model number 10AW1G), and owners are advised to stop using it. Contact the company and they will replace the stroller with the Qbit LTE model. Full Recall Details