The Best Baby Slings So You Can Comfortably Wear Your Infant
And keep your hands free.
by Thelma Adams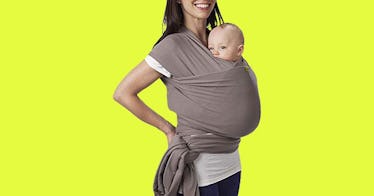 Baby slings have been essential parenting gear for a few millennia, at least, and there are many good reasons this simple, perfectly engineered piece of baby-carrying technology has survived generations of other innovation. The best baby sling carrier or wrap — whether it's designed for a newborn or a toddler — helps you bond with your baby, while keeping your hands free to do other things around the house or out in the world.
When using a sling, use your common sense and practice a few times to avoid common mistakes, says expert Dr. Benjamin D. Hoffman, the chair of the American Academy of Pediatrics' Committee on Injury, Violence and Poison Prevention.
"With slings, the head can be completely obscured by the sling and unfortunately horrible things can happen. Be very conscious of the airway and head and neck," he says.
The advantage of the sling is many – they're super-easy to clean and don't take an engineering degree to strap on. Also, the proximity to dad keeps the baby secure while pop's rocking walk can soothe the most colicky of kids. Besides its convenience, baby-wearing promotes intimacy between papa and child. And, it's flexible: A dad can carry the infant in a variety of positions, nestling close to the neck, belly to belly with the baby upright, the cradle carry with the baby semi-upright or, for older kids, off the hip. Plus, it easily fits into a diaper bag. Before you buy a sling, think about how long you plan on using it, because a sling provides minimal structural support. And that can be an issue once your baby becomes mobile, and heavy.
Every product on Fatherly is independently selected by our editors, writers, and experts. If you click a link on our site and buy something, we may earn an affiliate commission.
This article was originally published on