Baby Sleep Gear All Parents Should Know About
From a high-tech baby monitor to a soothing bear loaded with a "cry sensor".
by Fatherly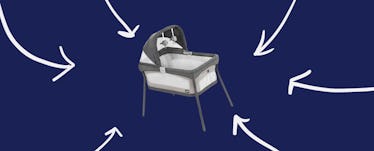 How is the baby sleeping? How well do they nap? Are they sleeping through the night? How's sleep training going? Are you getting any sleep? When you become parents, Zzzs and how you and your kids achieve them become the hottest topic around. That's because nothing dominates a new parent's life than how they — and their kids — are sleeping. It's a trying time for all involved but, with the help of some essential sleep gear, parents can gain the upper hand. Here are the baby sleep items we love.
See more: Best Crib Sheets
Controlled via an app from your phone, you can select multiple hues, all of which have been shown to aid in your child's circadian rhythm, while white noise's benefits, backed by science, allow for deep, restful sleep all through the night. We especially like its swappable coverlets, which are a fun way to customize its appearance as he or she grows older.
Parents can rest easy knowing their babies are getting their rest, thanks to Miku. This next-level baby monitor tracks everything, from humidity to breathing, and even has night vision paired with top-tier optics and HD storage.
The Nanit Plus, a follow up to the original Nanit, is a small, square camera that's made to be placed above a crib, aiming directly down for an overhead view. It's well designed and unobtrusive, mounting as simply as a shelf. It's equipped with a wide-angle lens that streams 1280×960 resolution to your phone or tablet 24/7. It also boasts two-way audio, a soft-glow nightlight, sound- and motion-detectors, and, thanks to an array of infrared LEDs, crisp, clean night vision. Nice touch: even when the Internet is down, the Nanit continues to stream over Wi-Fi. All of these features allow for a perfectly framed view of a baby in their crib.
An inner band keeps squirmy babies snug, and it's quiet velcro won't startle them awake as you adjust it. Breathable mesh keeps them cool, and there's extra room in the hips for growing babies. Plus, the medium and large sizes have openings for babies arms, as they start to wean from swaddling.
It sets up quickly with clip-on legs and breaks down quickly and stores flat in the included, zip-up carrying case. All fabrics are machine-washable, including the zip-off mattress cover and the extra soft-knit sheet. Usable from birth until baby reaches 20 pounds or starts to sit up on hands and knees.
If your little one starts to whimper, it emits a soothing symphony of pink noise, which mimics the sounds of the womb, and helps relax him or her back to sleep. If your baby is sleeping soundly, Whisbear goes into standby mode, ready to turn back on at the first sound of trouble.
Instead of keeping your baby's hands at his or her side, this baby swaddler lets them keep their arms up, around their head. It has a dual zipper for easy diaper changes, and its wings prevent any face-scratching.
The cover also features waterproof backing, and a flammability barrier. The real draw here, though, is the presence of two specific mattress sides: one for infants, and one for toddlers. The infant side is coated with KulKote Gel for optimal temperature regulation, while the toddler side features durable and supportive microcoils, which help relieve pressure and improve posture.
The rechargeable shock- and water-resistant monitors have a 1,000-foot audio range, 25-hour battery life, and fat buttons on the side. They audio is clear enough to hear cries wherever you are and the units themselves are durable enough to toss in a bag when you need to travel.
This portable bassinet folds right up when you're done. But when you're using it, it sets up and folds down in seconds. It has a locking frame and durable side walls for stability, and ventilated mesh panels for breathability. You can use it from birth until your baby is either three months old, or 15 pounds. And of course, never leave it on an elevated surface.
Every product on Fatherly is independently selected by our editors, writers, and experts. If you click a link on our site and buy something, we may earn an affiliate commission.
This article was originally published on