This New Baby Shark Bath Toy Sings As It Swims
Bath time doo doo doo doo doo doo.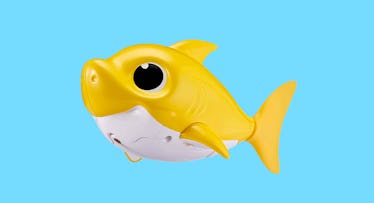 Here's a riddle: What sings but never speaks, is your kid's wildest dream but your worst nightmare, and isn't alive but nevertheless makes you want to kill it? The answer: a Baby Shark Sing & Swim bath toy. That's right, the baffling, repetitive global hit — last seen saving the Washington Nationals and inspiring Cardi B — is now a bath toy.
Yes, the shark sings its earworm-y song. To hear it, install three AAA batteries — they're included, so you can't use "need to get batteries" as a stall tactic — and drop the plastic shark into bathwater. The moisture activates a sensor in the shark that in turn makes the song start playing.
On the one hand, this might make normally reticent kids less resistant to bath time, which is good! On the other hand, your bathroom probably has tiled walls and/or floors, and the idea of "Doo do do do doo" reverberating endlessly off of them is not exactly one that fills our hearts with joy.
The toy does mercifully automatically switch off after four minutes. Unmercifully, it also comes in Mommy and Daddy shark editions, raising the possibility a particularly inconsiderate relative might get all three, filling your bathroom with the cacophony of the entire family singing along, slowly driving you insane while your kid bathes away, cackling with glee at the song. But it's a baby shark world. We just live in it.
Every product on Fatherly is independently selected by our editors, writers, and experts. If you click a link on our site and buy something, we may earn an affiliate commission.
This article was originally published on