Best Baby Seats
Because sometimes, you need a hands-free option.
by Lexi Dwyer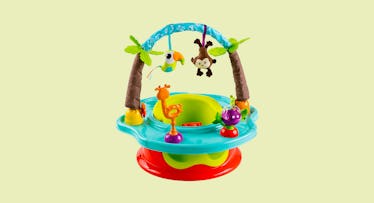 Parents need baby seats because there are times you want your hands free to do stuff like unload the dishwasher or use the bathroom. A baby bouncer or baby chair can be a clutch piece of gear in your new-parent arsenal, but be sure to follow these baby chair safety tips from the American Academy of Pediatrics.
Place an infant bouncer on the floor only, never on a table or counter.
Don't put a baby chair on a bed, couch or other soft surface, because suffocation can occur if it tips over.
Use the restraints, making sure they fit securely, and don't leave baby unattended.
For bouncer seats, stop using them when your child can sit up alone, weighs 20 pounds or reaches the product's maximum weight limit.
Never use a baby seat for sleep; according to the AAP, infants ages four months and younger are "especially at risk because they might assume positions that can create risk of suffocation or airway obstruction."
To encourage proper physical development, the American Occupational Therapy Association also suggests parents "limit the time your baby is constrained in swings, exersaucers, and other baby gear, and encourage active play to strengthen his muscles through tummy time."
Occupational therapist Rachel Coley of Can Do Kiddo suggests aiming for 30 minutes or less each day, and also has a helpful video that explains how to tell if your kiddo is ready for a baby seat (note: it's not just about head control!). Now that you've got the lowdown on baby seats and bouncers, here are a few to check out.
Best Baby Chairs and Baby Seats
Pros: Parents get all the benefits of a full-sized high chair in half the space with this baby chair from Fisher-Price. You get an infant high chair and toddler booster in one, which you can customize with two height adjustments and three recline positions.
Cons: The quality of cover can be dubious; there are reports of tears.
Pros: This baby chair is ideal for babies who can already sit up on their own. It has a tray and toys that rotate, to keep your tot engaged. And it includes a spinner, a mover, and a rattle. Plus its wide legs ensure that it's stable.
Cons: Once your kid outgrows it at roughly 24 months, you're done.
Pros: It's a serious bargain, which is a bonus considering that babies only use bouncy seats for a limited period of time. The cheerful pattern is gender-neutral, and the fabric cover is easily machine washable.
Cons: Some parents felt that "you get what you pay for," reporting issues such as uneven stitching (that caused the baby to lean to one side) and weak vibration.
Pros: It's lightweight, fairly well-priced and has features around the outer edge (such as crinkly fabric and flaps that lift) to help stimulate a baby's developing senses. And because baby's bottom makes contact with the floor, he or she can start to get a feel for what sitting actually feels like.
Cons: Some parents reported that the seat deflated quickly, and had a bad smell when first taken out of the box.
Pros: The wide base allows baby to feel the ground beneath her, which helps with sitting practice. It comes with two toys, or you can swap in your own using the attached loops. And it folds flat for travel or storage.
Cons: It has a fairly small time window of use, and if your baby has chunky legs, it might be tricky to get her in and out of the seat.
Pros: Although it's on the pricier side, you'll get a decent amount of mileage out of it, especially since there is an infant insert to help smaller babies fit more safely. There's a rotating tray and activity arch to help keep babies entertained. When your little one is ready to join you at the table, straps attach to a regular chair, the toys come off and, voila, it's a booster seat.
Cons: Parents said the seat was tricky to assemble and that the tray can come apart easily.
Pros: Baby can bounce, thereby entertaining herself (win-win!). It's also a stylish piece of baby gear you wouldn't be embarrassed to have out, although it folds flat if you feel like tucking it away or bringing it on vacation.
Cons: The price is high, but the reviews are overwhelming positive, other than those who reported receiving what they believed were fake items.
Pros: Meant for babies six months and older (those who can already sit up), this baby seat has a removable feeding tray, and converts into a toddler seat. It attaches to dining chairs so your baby can sit with you at dinner.
Cons: The tray is too small for big family dinners. It's good for snacks only.
Pros: This seat will last you a long time, because it can accommodate kids up to 33 pounds. The seat cushion is washable and wipeable, and the tray slides out to replace the toys when your baby is hungry.
Cons: No cons, except the reality that this doesn't replace a high chair, nor was it meant to.
Every product on Fatherly is independently selected by our editors, writers, and experts. If you click a link on our site and buy something, we may earn an affiliate commission.
This article was originally published on