This Baby Registry Bot Automates Pregnancy Gift Buying
They need this gear, but you don't need the aggravation.
by Aaminah Khan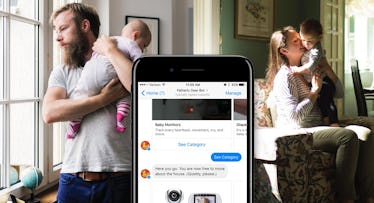 The following was produced in partnership with our friends at Babyganics who create natural products that help keep your baby healthy and happy while they freely explore their world.
Registering for your wedding was one thing — at least those hours lost wandering department stores with the world's worst laser tag gun were spent in service of picking out stuff for you. Baby registry takes the same time commitment, plus you have no idea which products are the best (or will be best for your kid), and you don't even get to play with the toys when it's all done! Until now. Well, except for the toys.
RELATED: The 8 Best Sleep Apps and Meditation Apps That Relax Kids
The answer to your woes is the Baby Bot, which allows you to choose from the best-reviewed and most popular items in common registry categories like carriers, car seats, cribs, high chairs, strollers (and joggers), bath and diapering essentials, bags, and monitors. Just tell it what you're looking for and Baby Bot will serve up options you can research yourself and add to your (online, if you're smart) baby registry. Sure, you still have to register, but this way you don't have to spend entire days in baby stores. Better to enjoy those weekends now, because when the kid finally shows up, they get a bunch of cool, new stuff and every second of your time.
This article was produced in partnership with our friends at Babyganics whose Shower Squad will surprise you or a friend by crashing the baby shower with a load of Babyganics essentials to help new babies explore, develop and grow boldly. But first, you still have to register.
This article was originally published on