The Babocush Baby Pillow Calms Newborns By Simulating Your Heartbeat
They'll be vibing on this one.
by Dave Baldwin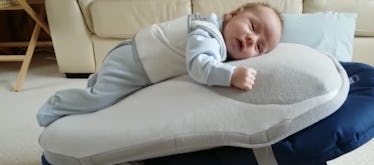 Parents with a colicky newborn know there's only so much "soothing" and "shushing" you can do before you also need soothing and shushing. Your wife is at the gym. Your 4-year-old is at daycare. The dog is dealing with his own issues. What if there's nobody else around to tag in? Babocush, you're always there. This vibrating cushion is designed to trick your baby into thinking you're still hugging them on your chest, when in fact you're on the other side of the room, wearing earplugs.
RELATED: The Best High-Tech Baby Gear For Your Nursery
It was created by an Irish mother of 2 who was determined to give exhausted parents a free hand, or time to play Call of Duty with the older kids. The foam mattress uses a 5-point harness to securely hold an infant up to 6 months (or 21 pounds) on their tummy. For the first 3 months, it's attached to a rocker or bouncer of your choice (neither are included); from 3-6 months, you lay it on a carpet or a non-slip floor. It also includes a failsafe in case the screaming/gassy infant isn't falling for your clever rouse: A built-in 3x speed vibrator that simulates a heartbeat.
It will also inevitably get doused in spit-up, so the Babocush has a removable fleece cover that's machine washable. As long as you don't leave your child unattended, they're free to hang on the 'cush indefinitely — or at least until your spouse comes home from the gym to find you playing peekaboo.
Want tips, tricks, and advice that you'll actually use? Click here to sign up for our email.
This article was originally published on