Babierge Makes It Easy To Rent Baby Gear When You Travel
Babierge is a sanity-saver.
by Dave Baldwin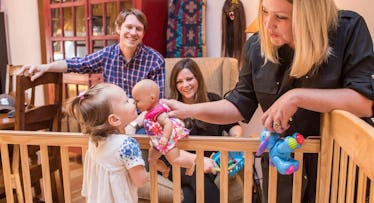 BABIERGE
If Dante was alive today writing The Inferno as a new parent, flying with a baby would easily be the worst circle of hell. Hands down. And not even because you're spending most of the flight trying to keep them quiet while avoiding eye contact with other passengers. No, it's because you're stuck lugging all that gear through the airport: the luggage, the car seat, the stroller, the Pack 'n Play … "F-it, we're not going anywhere, dammit! We'll see your parents next year." But what if you could leave all your baby gear at home and just rent new stuff wherever you were going? Sounds magical, right? Well, that's the idea behind Babierge.
RELATED: The Best High-Tech Baby Gear For Your Nursery
Simply put, Babierge is an Airbnb-style service that rents baby gear (from cribs, to high chairs, to toys) to traveling parents who'd rather not bring their own ⏤ or ask their folks to buy new stuff just for one trip. All you have to do is jump on the Babierge website (don't let its dated aesthetic throw you off), select one of the 27 cities serviced, and identify a Trusted Partner renting the gear you need. Their email address and phone numbers is provided so you can hook up directly to make a reservation.
Obviously, all the gear meets current safety standards (nobody's renting you a recalled crib from the late '70s) and has been thoroughly cleaned and sanitized, so your baby won't get Roseola. And it's also all insured. Much like Airbnb, individual renters set their own prices and charge anywhere from $15 to $20-a-day for a crib, to $10 for a car seat, to $5 for a selection of colorful cups, bowls, and plastic cutlery. Some cities also rent a $60-a-day bundle that includes pretty much everything you just left at home, including books and a monitor. And even better than not having to unload everything curbside at the airport, you can pay to have it all delivered and set up at your destination.
Finally, if you're not traveling at all but are one of those stay-at-home dads who's already exhausted these 3 ways to make a little extra cash (and you happen to be sitting on a basement full of nice gear you're kid won't miss), feel free to join in the rental fun. Babierge is always looking for new trusted partners and claims you can rake in up to $1,000 a month. Or you could just go through the (7th circle of) hell and try selling it all on Craigslist.