Best Aviator Sunglasses
These shades are all about performance and badassery.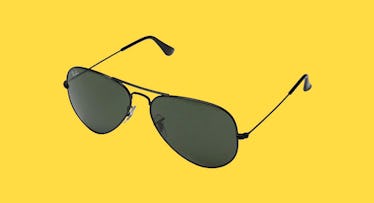 Aviator sunglasses were originally created in 1936 by Bausch & Lomb for pilots to protect their eyes while flying. Hence, the name aviator. And when the sun is out, you have two choices to shield your eyes from the blinding sun: Hats or sunglasses.
Wayfarers are for cool beatniks who like thick frames that jut out from their faces. Aviators are for bosses who need something suited for performance and badassery. (For proof, look no further than Cool Hand Luke or Top Gun). The tear-drop shape of the lens offers full protection from the sun while the thin frames fit well under a helmet.
See more: Best Swim Trunks for Men
Sunglasses can protect your peepers from UV rays, and wearing them is highly recommended, per the American Academy of Ophthalmology. Make sure you look for a sticker or tag indicating that they block 100 percent of UV rays. As for polarized lenses, they cut down on glare, but offer no extra UV protection.
With that in mind, here are our favorite aviator sunglasses.
One of the OG aviator makers, Ray-Ban's classic frame is ubiquitous upon the eyes of bad-asses. They're what Maverick wears in Top Gun. This frame has been around since 1937 and with its sturdy construction and classic silhouette, it'll be around another 80 years too. They provide 100 percent UV protection.
The aviator sunglasses feature a rectangular double-bridge aviator design and clear adjustable nose pads. They weigh just one ounce and of course have 100 percent UV protection coating.
At only nine ounces, these titanium framed glasses are unusually light yet they pack a ton of technology. This includes C3 lenses which are anti pretty much everything (anti-scratch, anti-fog, anti-reflectance coatings, super-hydrophobic and anti-spotting).
For aviators with a touch more flair, Oakley's Feedback combine all the coverage of a traditional Aviator lens-shape with a graphic acetate frame. Plus unlike traditional aviators, these come with a nifty gradient on the lens, perfect for a high-flying creative.
Though inspired by Al Pacino's don't-mess-with-me aesthetic in the classic cop film Serpico, this pair of glasses utilizes technology that wasn't around back in 1973. This includes V-toric lens curvature, which diminishes distortion in your peripheral vision, and the ChromaPop polarized coating on the lenses.
These straight-forward aviators are a great budget entry. Sure, the lenses aren't curved with fancy technology and the frame isn't metal but they look great nonetheless and the dark green-colored non polarized lenses are as fun to look through as they are to look at.
With their accentuated triangular shape, Oliver People's Floriana riffs on the Aviator silhouette without quite conforming to the standard. With slight etching on the gold metal frame plus open accents on the temple, they combine both power and the urge to rebel against it.
Every product on Fatherly is independently selected by our editors, writers, and experts. If you click a link on our site and buy something, we may earn an affiliate commission.
This article was originally published on