These Arcade1Up Machines Are Made For Your Mancave
Finally a chance to beat your high score on 'Asteroids' from the comfort of your own home.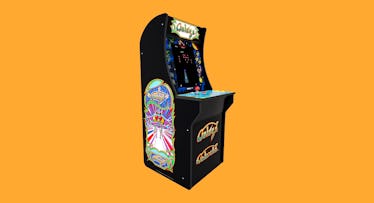 Let's just make it clear: We're madly in love with arcade cabinets from Arcade1Up, which are well priced, straight-out-of-the-80s-pizza-shop arcade machines loaded with classic games.
Each system is stored in a classic arcade cabinet, detailed with characters from the games. Available machines include Gallaga, Centipede, Rampage, Street Fighter II, and Asteroids. Each features a different combination of joysticks, trackballs, and buttons depending which games it has. For instance, the Street Fighter II version has the joysticks and 6-button array you need to shoryuken! the hell out of opponents; the Centipede machine features a trackball for slithering.
You'll need a screwdriver and some Ikea-level carpentry skills to assemble these machines, which are 3/4 the size of their coin-operated forebears (about four feet tall, two feet deep, and a foot and a half wide). Speaking of coins, you won't need any for the Arcade1Up, so unfortunately you won't be able to make any money off of your kids when they start button mashing.
Each cabinet contains a 17″ LCD screen and features original, officially licensed artwork. A riser for shorter players and a stool for long-term players are available separately.
Every product on Fatherly is independently selected by our editors, writers, and experts. If you click a link on our site and buy something, we may earn an affiliate commission.
This article was originally published on