Apple's Screen Time Is the Killer Parental Control Features Kids Need
The forthcoming iOS 12 Screen Time app makes it easy for parents to monitor usage, restrict access, and simply be more aware of family viewing habits.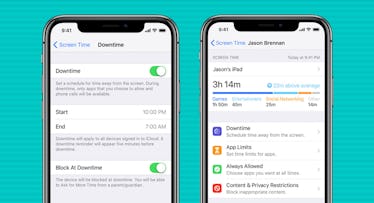 Apple recently unveiled its next operating system iOS 12, which will be available for download this fall. And while the release included the requisite dancing animal emojis and head-scratching Siri updates, the most exciting news fell into one major category: parental controls. Install iOS 12 and your phone will have a suite of new programs to not only monitor and regulate your family's screen-time habits but also stay alert of general smartphone habits.
We received walkthrough of the new systems and, from the brief preview, it's clear these are thoughtful updates that will really help parents. First and foremost, iOS 12 includes a new app called Screen Time. The purpose of the app is to, simply enough, give parents control over the content their kids consume. Through Screen Time, users can set limits on how much time their kids (and themselves) spend on any given app. Parents can set restrictions on any device linked through their Apple's Family Sharing platform to put time limits on both apps and websites.
Screen Time lives on Apple's control panel so it's easy to swipe up and select in the same way you might set an alarm. Once in the app you can restrict, for instance, limit Fortnite or Minecraft playtime to one hour a week. Kids will receive notifications about how much time is remaining as they play; once their weekly limit is up, the app is greyed out and unable to be accessed; if, like, Facebook there is both and app and a website, both will become restricted. They can send requests to you to play more, which you can either accept or decline. (There's only one chance to ask for more time; if you decline, they can't keep nudging you with notifications until you give in.)
Screen Time also allows you to schedule chunks of time when you want to restrict access to a child's device. During the indicated time, push notifications are prevented from displaying on the home screen and all apps are locked. You can, however, "whitelist" a few apps that always be accessed, even during downtime. This means that your kids can still access classroom-required apps so they can, say, complete assignments during a homework time app-freeze.
As part of Apple's wellness efforts, the Screen Time app also sends you a weekly report that breaks down you and your family's tablet and phone habits into a color-coded graph broken down into Games, Entertainment, Social Networking and Other. It offers insight into everything from the amount of time spent on certain apps and websites your family is using to how often you pick up your phone and which apps are sending you the most notifications. Parents get an on-the-ground look at their kids viewing habits; every user can confront their personal habits and make smarter screen-time changes.
There are many ways to monitor your kid's screen time. But we're excited to have something that makes the process as seamless as Apple's Screen Time app. We'll know for sure when the update releases this fall.
This article was originally published on