The New Analogue Super Nt Is the SNES Classic You Actually Wanted
For starters, it can play 2,200 games in glorious HD.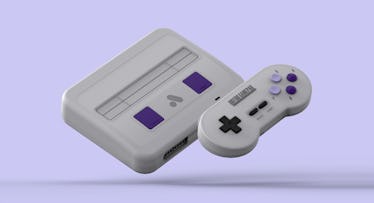 Time to brush up on your Contra and Konami video game codes. While there's been no shortage of retro gaming consoles making news as of late (oh hey Super NES Classic), the recently announced Analogue Super Nt looks to be the best of the bunch.
Similar to the Analogue Nt Mini, the Super Nt console is the company's take on the Super Nintendo. It's compatible with more than 2,200 SNES and Super Famicom cartridges, which Analogue claims it plays at a lag-free 1080p. The game console also plays nice with other classic components, too, so you can dust off your old Teenage Mutant Turtle-skinned controllers, and comes in four different bodies, including a classic clear one that lets you peer at the inner workings of the system. The best part? Unlike the Mini, which costs nearly $500, the new console runs a much more reasonable $190.
RELATED: The Best Retro Game Consoles For Kids & Adults
There is a reason, however, that the Nt Mini is cheaper than the Super Nt. It doesn't come with its own controllers or games. Also, unlike the company's other consoles, it's not milled out of aluminium; it's basically made out of plastic. Analogue does claim, however, that's not a reflection of its quality; in fact, it claims the system has ome of the same and some new super specs, including aspect ratio correction and high-quality sound so you can bask in those sweet, sweet game soundtracks.
Still, this system is a welcome addition to any retro gamer's setup. The Super Nt Mini is now available for pre-order and ships in February of 2018.
This article was originally published on