Fatherly Finds: Best Ongoing Amazon Deals on Toys and Games
It's playtime, for cheap.
by Donna Freydkin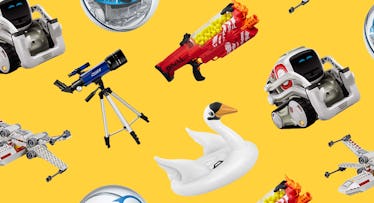 Amazon Prime Day has come to an end. But there's still time to score some major deals on major toys and games. And by some, we mean awesome. Which is why we update this on a regular basis, so you always pay less for the best stuff.
To help you out, we've found great Amazon deals on everything from Legos to pool floats to toy kitchens. We're sure you'll find something here you like. Or not. We're not the boss of you. We're just trying to help. So check out these Amazon sale products, which, to be honest, are even bigger deals than some of what we saw during Prime Day. You won't regret it. Unless, of course, you're the sucker who likes paying full price. In which case, you're on your own.
Amazon deals: Toys, pool floats, and other kid gear
Parents of young children can rejoice in the fact that it is both easy to put together and wipe clean. Sized for kids three to eight.
The colorful 4-story converted fire station is the perfect friendship gift for any six to 12 year old. Once they complete the 722 piece set, they can bring it to life with the Olivia, Emma, and Andrea mini-doll figures, and their pets, Dash the dog, Rumble the hamster, and Cinnamon the bunny.
Kids can get a jumpstart on the core concepts and fundamental applications of coding while playing with Botley. This Innovative Toy of The Year award winner, perfect for beginning coders ages five to eight, comes with a remote programmer, detachable robot arms, and so much more to keep young minds busy.
Kids learn to count, to share, to run a business through cooperation, with this high-quality grocery store set. It's designed to inspire customers three and older to browse the shelves and pay for purchases on one side, while on the other side, the grocer rings up items they're buying. Meaning, kids work together to achieve a common goal.
We defy you not to love this three-in-one cart, which includes 40 play foods. Kids flip the awning to decide if they're selling hot dogs or ice cream. It's made of wood, and will last and last. It has pull-out drawers, a working bell, sliding see-through doors, reversible awning, and a double-sided, write-on menu that lets kids set prices. Ideal for ages three and up, this cart teaches the basics of math, teamwork, and cooperative play.
SPRK+ is Sphero's educational robot that lets kids code across several platforms using JavaScript, helping them learn to program. It has sensors that include motor encoders, a gyroscope, accelerometer, and LED lights. Hours of learning, masquerading as fun.
Best of all, he has a camera that kids can use to spy on their parents.
This swan pool float easily fits two kids or one adult and makes for hours of fun.
This bagel pool float can be connected to other pool floats for the ultimate bageltastic floating experience.
Summer is not summer without ridiculous pool floats. This pretzel pool float fits up to three kids. What a salty deal.
The pink flamingo pool float has two cup holders, a head rest, and works for both adults and kids.
The lenses on this starter telescope are all multi-layered glass coated in a green material that provides clear views with 99 percent total light transmission.
This is the Nerf gun dreams are made of. This blaster comes with 100 rounds, so you can spray down your enemies with abandon — even if it means a lot of cleanup.
Now your kids can join Iron Man, Star-Lord, Gamora, and Thanos to recreate a scene from Avengers: Infinity War. The set is compatible with all LEGO Marvel Super Heroes building toys and is suggested for boys and girls 9-14.
This set comes with Luke and R2-D2 figures to fly around in the X-Wing — with real folding wings! — and a Stormtrooper to man the rotating turret trying to gun them down. It's a simple, solid set for early-career Lego builders.
Made of 2812 pieces, this elaborate set allows you to create Cloud City, the cumulous-puncturing floating cityscape first introduced on The Empire Strikes Back. The set is extremely detailed, featuring a carbon freeze chamber, interrogation room, and Boba Fett's Star Wars Slave It includes 18 minifigures, including Luke, Han, Leia, Darth Vader, Boba Fett.
Bring the ice cream shop home with this delicious 28-piece set. Your kids will enjoy serving up cold treats for family and friends while earning play money. Makes a great gift for ages three and up.
Your kid can journey to the Kanto region with Eevee to become a top Pokémon Trainer as they battle other trainers. While there, they can also choose to play the entire game with a single Joy-Con controller or use the Poké Ball Plus accessory, which will light up, vibrate and make sounds to bring the adventure to life.
Every product on Fatherly is independently selected by our editors, writers, and experts. If you click a link on our site and buy something, we may earn an affiliate commission.