Amazon Prime Day Is The Best Day To Buy Diapers
You're gonna have to buy them anyways, so you might as well get them delivered and on sale.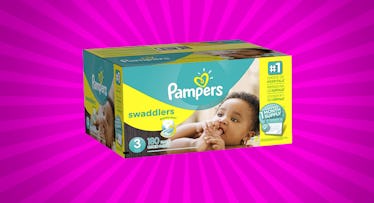 With over one million items on sale, this year's Amazon Prime Day isn't confined to the more glamorous sections of the site. You don't have to buy a new flat screen or fancy coffee maker; you could score big buy stocking up on essentials. For instance, this year's Prime Day is shaping up to be the best day of the year to buy diapers, which, chances are, you'll need. So, to help you out, here are the best Prime Day sales we've seen on Amazon.
Earth's Best TenderCare: These diapers are free of chlorine, latex, dyes, and fragrances. It normally costs a lot to pay for so little, but on Prime Day you can get 50 percent your first Subscribe & Save order. If you'd like to continue receiving these diapers in the future Amazon will keep delivering them at full price, but you can also cancel your subscription without consequence.
Cuties Complete Care: "Clip" a virtual coupon and you get $5 off of a box of the Cuties Complete diapers. They are available in sizes 1-7 and in quantities from 80 to 204. They're a hypoallergenic ally and dermatologically tested so you can be confident that they won't cause your baby to have a negative reaction.
Pampers Easy Ups: While not diapers per sé, these training underwear still do the dirty work kids in potty-training (and their parents) need. They fit more like real underwear, with a stretchy waistband and super soft cotton-like texture. You can save $5 on a box of Easy Ups with a virtual coupon that doesn't expire until September 29.
Seventh Generation Free and Clear: Each size from newborn to size two comes with an extra, unclenched cotton liner, but all of the sizes are free of chlorine bleaching, fragrances, and lotions. On Prime Day, you can receive 40 percent off of your first order from Amazon.
Every product on Fatherly is independently selected by our editors, writers, and experts. If you click a link on our site and buy something, we may earn an affiliate commission.
This article was originally published on