Save Big on This Electric Wheelbarrow, The Outdoor Workhorse You Didn't Know You Needed
It's amazingly useful and heavily discounted for Prime Day.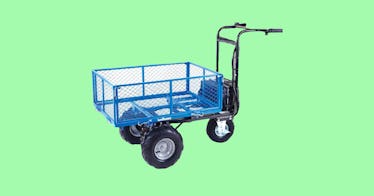 The earliest depictions of wheelbarrows were found in the tomb of the second century Han Dynasty Emperor Hui. Chances are, the one sitting in your garage or the utility shed in the backyard has pretty much the same design: handles on one side, a wheel or two on the other. That's all fine and good, but it's the 21st century which means you don't have to schlep your wheelbarrow around unassisted. And for Prime Day, you can save big on the convenience.
Meet the Landworks Utility Cart. It's a heavy-duty, versatile wheelbarrow with a 48-volt electric motor that makes it way easier to transport even the heaviest loads. Using the thumb-operated, handle-mounted accelerator you can propel it forward up to five km per hour (just over three mph). It won't exactly set any land-speed records, but it will make any home improvement or gardening task that necessitates moving something heavy from point A to point B much easier and less likely to give you a sore back.
See more: All the Amazon Prime 2019 Deals You Need To Know
The sides of this thing fold down so you can use it as a flatbed, and there's an easy-to-operate latch that makes dumping out whatever your hauling simple. The battery lasts anywhere from two to five hours, depending on how heavy your load is and how much time you spend going uphill.
There's never a bad day to buy an electric wheelbarrow, but with a price $126 lower than normal Prime Day is the best day to pick one up.
Every product on Fatherly is independently selected by our editors, writers, and experts. If you click a link on our site and buy something, we may earn an affiliate commission.
This article was originally published on