Amazon Prime Day 2019 Deals: DNA Testing Kits
You can learn your family history for less.
by Briana Haas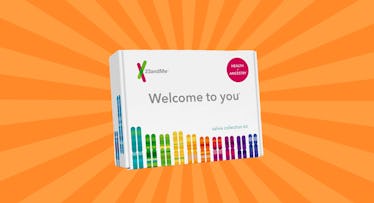 Amazon Prime Day 2019 has great deals on DNA test kits, including the Ancestry DNA kit and the 23 and Me kit. You can learn about your family for way, way less than you'd normally pay. And that's a good thing, because it used to be search warrants were necessary for collecting DNA samples. Today, people are giving at-home DNA testing kits as holiday, birthday, and even housewarming gifts, so families can trace their ancestry or learn more about their genetic makeup.
So, whether you want to track your roots, potentially solve a cold case, or win a bet, we've rounded up the best DNA kits on Prime Day.
These accurate and reliable reports take 6-8 weeks once your sample is sent. And while 23andMe offers reports that provide insight into risks into developing a disease, the company warns that they shouldn't be used to make medical decisions.
You receive your online results in 6-8 weeks with AncestryDNA. Included in your information, you can see different regions that make up your estimate, learn the history of the area from ancient to modern times, and even learn surprising facts about locations and the people who called those places home.
This version is for children 14 and under and only requires hair samples. Results will arrive in 7-10 business days along with a sheet explaining how to interpret the findings.
Every product on Fatherly is independently selected by our editors, writers, and experts. If you click a link on our site and buy something, we may earn an affiliate commission.
This article was originally published on