Great Last Minute Amazon Prime Day Deals You Can Still Score
The deals are still out there.
by Fatherly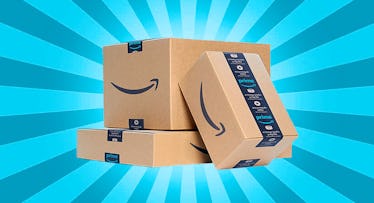 Amazon Prime Day has come to an end. But there's still time to score some deals. And by some, we mean awesome. So, to help you out, we've found great Amazon Prime deals on everything from AirPods to blenders and baby monitors. We're sure you'll find something here you like. Or not. We're not the boss of you. We're just trying to help. So check out these Amazon sale products, which, to be honest, are even bigger deals than some of what we saw during Prime Day. You won't regret it. Unless, of course, you're the sucker who likes paying full price.
Amazon deals: Coffee makers, knives, and kitchen gear
Not only does this coffee maker look good on your counter, but it brews a mean cup of Joe. It's fully automatic with 24-hour programmability, a self-clean option, and comes with a 12-cup carafe.
The five-inch handle lets you get a solid grip. The eight-inch blade is made from X50Cr15MoV German steel with HRC 58 +/- 2 on the Rockwell Hardness Scale. It's most likely one of the best knives you'll ever own.
This thing crushes through frozen fruits and veggies, transforms produce into smooth sauces, and generally, is the only blender you'll need.
This is basically the only cookware set you'll need. Because it does not break. Period. You get a 10.25 inch skillet, a 10.5 inch griddle, and a five quart Dutch oven. You can use it to cook anything. Period.
You use the Balti dish to cook marinated meats, vegetables and spices. The food is cooked and served in the wok-like bowl, then shared with naan.
These are some very sleek knives. Thank you, Cuisinart. They're made from stainless steel blade for precision cutting and have a handle designed for total control. And they come with a lifetime warranty.
No more sawing through steaks. With these glorious knives, your filet mignon will be eaten as it should be. These steak knives feature carbon stainless steel blades that seamlessly slice through meat and chicken. And yes folks, they're only $80, down from $160.
Instant Pots! What person doesn't love them? This six-quart Instant Pot also serves as an electric pressure cooker, rice cooker, slow cooker, yogurt maker, cake maker, steamer, food warmer, and sauté powerhouse. It's seven gadgets in one.
Make killer coffee at home with Breville's compact espresso maker. It extracts one or two espresso shots at a time. There's a steam wand for frothing milk. Plus, it automatically purges the heat system after steaming to make sure your next espresso is extracted at the perfect temperature.
This robot vacuum works with Alexa, gives you more than an hour of cleaning time, and fully recharges in three hours.
This nine-piece knife set is made from forged steel with hand-polished edges and precise tempering. In short, they're sharp as hell, and get the job done.
These fantastic knives are made from high-alloy German steel that has a hardness rating of 58 ±2 on the Rockwell Hardness Rating Scale. These knives have ultra-sharp edges and top-tier edge retention.
This is your new sandwich maker. It has a six by 10 inch heating plate, so you can cook up serious amounts of food. It has 1400-watt dual heating zones that allow for faster and more energy-efficient cooking times. You can use this indoor grill year-round.
This bad boy replaces eight kitchen appliances. It serves as a pressure cooker, slow cooker, rice/porridge cooker, yogurt maker, cake maker, saute/searing powerhouse, steamer, and food warmer. This model monitors pressure and temperature, keeps time, and adjusts heating intensity. You can control it via the Instant Pot app, or Alexa.
The Yeti Roadie hard-backed cooler has a capacity of up to 14 cans. Thanks to its rotomolded construction, the Yeti is indestructible yet totally portable. It has the T-Rex lid latches constructed of heavy-duty rubber so they won't break.
KitchenAid's two-speed blender is the basic essential everyone needs in their kitchen. It has an eight inch blending arm with a fixed blade that locks into the motor body. It has a soft-grip handle and comes with a BPA-free blending jar.
This 14 inch preseasoned wok is your go-to for making stir fries. Its flattened bottom is ideal for all cooking surfaces, including induction.
With this set, you get a Lodge deep cast iron skillet, a fryer, and a Dutch oven in one, plus a lid that doubles as a shallow skillet or griddle. You can use it on the stove or on the grill. You're welcome.
It seems like kind of a silly purchase — and maybe it is! — but this toaster also has an impressive four-star average rating on over 2,000 Amazon reviews. Also, it toasts hot dogs and buns together. Your kids are going to be impressed..
Unless you like hearing the whine of your smoke detector, grilling indoors is not really on the table. But this grill helps you secure a good sear everything from fish to chicken breasts without having to wave a rolled up magazine. The electric grill utilizes infrared technology: it heats up to 446 degrees F but, thanks to a drip tray that stays cool, there no burn off to agitate your security measures.
Cuisinart's coffee maker is the only thing that makes one Fatherly editor crawl out of bed in the morning. This model allows you to select regular or bold coffee flavor, is fully automatic with 24-hour programmability, and even has a self-clean option.
If you're looking for a classic chef's knife, Wusthof is an excellent choice. The high-carbon steel knife is well balanced and sharp, with a handle that feels great in-hand.
Amazon deals: Baby monitors, baby carriers, and parenting gear
Going on vacation with your infant has never been easier. Your baby can nap or play in here, and it folds flat, with handles for easy portability.
We like the messenger style of this diaper bag, which is quietly stylish. It has zip-top closure that makes sure belongings stay securely in the diaper bag, tote handles for versatility and an easy-access tech pocket. Plus it looks good.
The beloved Baby Bjorn bouncer just got an upgrade. It has four positions suitable for both rest and play and folds completely flat for storage. You don't need batteries or plugs, because this thing bounces on its own.
The toys on the mostly white, not-at-all-garish activity center can be positioned anywhere, and a small window allows baby to see her feet while she's playing the piano, which may help encourage spatial awareness. Along with the four toys and piano, the activity center also comes with a dishwasher-safe snack boy that attaches with a suction cup.
The bright display can be easily checked in the dark, and it's color coded either green (normal), yellow (getting warm) or red (fever zone). There's a voice feature that can be shut off (you know, when your kiddo is sleeping), and the thermometer will store the last 32 readings, so you can easily update your doctor on how your child is faring.
This is a pretty stunning price for a roomy, waterproof tactical backpack diaper bag. It comes with stroller straps, insulated pockets, and a changing pad. Amazon reviewers love this bag. Its main compartment is spacious enough to fit extra clothing, toys, and blankets for not only one, but two kids, and it has a padded laptop pocket.
This 3 Sprouts organizer keeps everything in place when you're on the go, including diapers, wipes, bottles and other stuff when you're out and about. It attaches to stroller handlebars and has two insulated drink holders and a pocket for a phone, car keys or umbrella.
This solid baby monitor is totally plug and play. One parent unit monitor can be paired with four child unit cameras, so it's especially great for parents with multiples. It has two-way talk, temperature monitoring, and night vision.
Parents whose kids are online (that's most of us) need parental control devices. This trusted and reliable Circle by Disney parental controller is pretty much mandatory in any digital household. You can also set individual filters for every family member.
Other colors are even cheaper (but alas, temporarily out of stock). Weighing only 18 pounds, this is the ultimate full-service travel stroller. It has an easy-to-reach handle that activates a compact fold with one hand and the stroller stands on its own when closed. It fits kids up to 50 pounds.
This very cute elephant plays five meditative songs and nature sounds, plus it projects a starry sky onto the ceiling. You can choose a rhythmic light show or relaxing individual colors, and it has auto shut-off.
The LILLEbaby SeatMe hip seat carrier has a firm and padded shelf seat for the baby to sit on. The shelf-seat supports baby's hips and makes it easy to position baby's hips in the right position. It's ideal when you want to hold or soothe your baby while still having some freedom of movement.
Of course you get 360 degree views and night vision with this baby monitor. You also get real-time alerts when it picks up movements. It also doubles as a security camera when your baby outgrows it.
Amazon deals: Headphones, speakers and other tech
These Bluetooth earbuds have a 20 hour playtime, a built-in mic, and a charging case. They instantly pair when you take them out of the case.
You can use these waterproof headphones for swimming laps, kayaking, and anything else waterborne.
You can use this for 12 hours off a single charge. And three buttons let you make calls, play, and pause tracks and access your phone's Siri or the Google Assistant.
The iPad has an 8MP back camera and 1.2MP FaceTime HD front camera. It's a keeper, so get it now, with up to 10 hours of battery life.
These Beats headphones are the latest reason you won't miss a workout. They have a 12-hour battery life and secure-fit earhooks so nothing falls out or moves around. You can take calls, control your music and activate Siri with RemoteTalk.
As you might have heard, latest-model Apple products rarely go on sale. So you need to get these AirPods now. With a wireless charging case.
If you're a parent like the rest of us, you know you go through these cables like kids go through ice cream. So stock up now. You'll thank us later. Apple's two-meter USB 2.0 cable connects your iPhone, iPad, or iPod with a USB port for syncing and charging.
This Sportband-equipped Apple Watch Series 4 is ready to move with you, and it's packed with features for the dad on the go. A fat, 40-mm display, electrical heart rate sensor, and workout library is just the thing to jumpstart to your fitness. The fall detection feature, along with a host of other safety features, really sells this for the man on whom others depend.
We love this printer because it uses ZINK, meaning zero ink, to create a small, portable design that doesn't require ink cartridges or toners. You just download the app to personalize and print your photos, and connect the Ivy to your Android or iPhone using Bluetooth.
If you don't want to spring for a super-fancy electric toothbrush, then just get this Sonicare. It has a pressure sensor that protects teeth and gums from over-brushing and reminds you when it's time to replace your brush head. Plus, it makes sure you brush your chompers for the recommended two minutes.
This electric toothbrush is Bluetooth-enabled, and has four different brush heads that automatically pair with the right brushing mode to give you the optimal clean, and provide you with realtime feedback.
Amazon deals: Toys, pool floats, and other kid gear
Best of all, he has a camera that kids can use to spy on their parents.
Kids learn to count, to share, to run a business through cooperation, with this high-quality grocery store set. It's designed to inspire customers three and older to browse the shelves and pay for purchases on one side, while on the other side, the grocer rings up items they're buying. Meaning, kids work together to achieve a common goal.
This swan pool float easily fits two kids or one adult and makes for hours of fun.
This bagel pool float can be connected to other pool floats for the ultimate bageltastic floating experience.
Summer is not summer without ridiculous pool floats. This pretzel pool float fits up to three kids. What a salty deal.
The lenses on this starter telescope are all multi-layered glass coated in a green material that provides clear views with 99 percent total light transmission.
This is the Nerf gun dreams are made of. This blaster comes with 100 rounds, so you can spray down your enemies with abandon — even if it means a lot of cleanup.
This set comes with Luke and R2-D2 figures to fly around in the X-Wing — with real folding wings! — and a Stormtrooper to man the rotating turret trying to gun them down. It's a simple, solid set for early-career Lego builders.
Made of 2812 pieces, this elaborate set allows you to create Cloud City, the cumulous-puncturing floating cityscape first introduced on The Empire Strikes Back. The set is extremely detailed, featuring a carbon freeze chamber, interrogation room, and Boba Fett's Star Wars Slave It includes 18 minifigures, including Luke, Han, Leia, Darth Vader, Boba Fett.
Now your kids can join Iron Man, Star-Lord, Gamora, and Thanos to recreate a scene from Avengers: Infinity War. The set is compatible with all LEGO Marvel Super Heroes building toys and is suggested for boys and girls 9-14.
Bring the ice cream shop home with this delicious 28-piece set. Your kids will enjoy serving up cold treats for family and friends while earning play money. Makes a great gift for ages three and up.
Your kid can journey to the Kanto region with Eevee to become a top Pokémon Trainer as they battle other trainers. While there, they can also choose to play the entire game with a single Joy-Con controller or use the Poké Ball Plus accessory, which will light up, vibrate and make sounds to bring the adventure to life.
Every product on Fatherly is independently selected by our editors, writers, and experts. If you click a link on our site and buy something, we may earn an affiliate commission.