Amazon Deal: Nerf's Most Powerful Gun Is 55 Percent Off Today
The Rival Prometheus MXVIII, which is basically the supercar of Nerf guns, is more than half off today.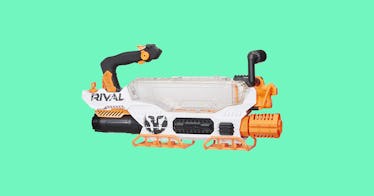 Black Friday and Cyber Monday may have come and gone, but that doesn't mean you can't still find great deals online. For instance, one of our favorite toys of the year, the elaborately named Nerf Rival Prometheus MXVIII-20K, is still on sale at its Cyber Monday price, and its not a deal you should miss.
The Prometheus is basically the supercar of Nerf guns, an exercise in why the hell not? The hefty blaster is three feet long and weighs five pounds. (You'll want to use the included strap to hang it around your neck and wield it at waist level, Rambo-style.) The are two handles, one on the rear that houses the two-finger trigger and one on the front to help you aim and hold steady.
The killer spec of the gun, however, is its "advanced acceleration system," powered by a rechargeable NiMh battery. That enables the gun to fire up to eight rounds per second at a velocity of 100 feet per second. That's about 70 mph. The gun's hopper holds up to 200 rounds, which means that, firing at full tilt, you can empty it in about 25 seconds.
The Prometheus is, understandably, not meant for younger kids. It's recommended for those 14 and older, an age range that conveniently includes parents who are ready to fire away. But, man, is it fun.
It is not, however, an easy purchase to consider, as it normally costs $200. Today, however, you can pick it up for $90, a 55 percent discount. If you were so inclined, you could even pick up two for less than the normal price of one and unleash some real pandemonium. Think about it.
This article was originally published on