Alpine ICE Is a Rugged Cooler With a Built-in Entertainment System
Cold beer and chill tunes.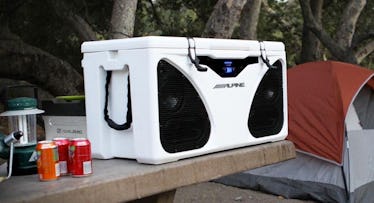 It used to be that coolers had only one job: keep the beer cold. Now, if the beverage cooler isn't blending margaritas, blasting Ludacris, and giving everybody a ride down to the beach, well, then what's the point? You may as well be toting your drinks in a cardboard box. The Alpine ICE fits squarely into the new wave of multitasking iceboxes. But it also takes said wave to the next level. A heavy duty cooler from Grizzly, it's crammed with a crazy high-end audio system from the sound smiths at Alpine.
First, the cooler: It's a 56-quart, roto-molded Grizzly with a BearClaw™ latching system. It measures 34-inches by 18-inches and rocks nylon rope handles with rubber grips. It can hold as many as 72 cans of your favorite malted beverage. There's also a two-inch plug and drain channel on the back.
RELATED: The Best Coolers and Ice Chests For Hauling Beer, Burgers, and Plenty of Juice Boxes
Second, the audio: Music lovers who care more about crisp tunes than crisp pilsners will delight in the ICE's speaker setup. It includes two water-resistant, 5.25-inch high-dynamic range woofers and one-inch high-output tweeters. Also, a pair of four-inch by eight-inch bass radiators. If you don't know what any of that means, just expect it to do justice to everything from Levon Helm to Ludicrous.
Some other features of note: the Bluetooth range sits around 30 feet, there are 3.5mm audio input/output jacks, and there's an illuminated control panel with power/volume/source buttons. A 12-volt adapter is in the box, and the cooler also has a vehicle battery low voltage monitoring system built in. That ensures you don't completely drain the car battery jamming out by the campfire.
The Alpine ICE runs a very cool $1,500. And that's without the $160 Plus One Sports Cart you'll probably want to lug the damn thing around, considering it weighs 48 pounds empty.
This article was originally published on