All Together Now! Your Fab Toddler Needs These Little People Beatles Figures
And their friends are all aboard, now.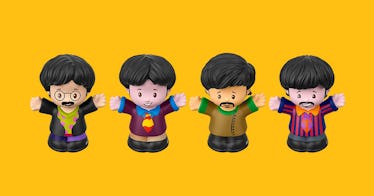 If your toddlers are already predisposed to love the Fisher-Price Little People, they clearly need the special-edition Beatles set. While we recognize that trying to decipher the lyrics of Beatles songs like "Yellow Submarine" might be an activity better left a dorm-dwelling previous version of yourself, that doesn't mean you can't pass on your passion for the Beatles to your kids.
Fisher-Price is selling a four-pack of Beatles Little People figures in the style of Yellow Submarine. To be clear, there isn't an actual full-plastic Yellow Submarine (yet) but these Little People Beatles will easily interact with all the other Fisher-Price Little People toys.
If you're like me, you might have a toddler that loves the Little People school bus, and now, you can have slightly cooler passengers on that school bus. In theory, putting these cartoon versions of John, Paul, George, and Ringo into the Little People school bus will transform your child's experience into The Magical Mystery Tour bus, and not the Yellow Submarine, but we're splitting some mop-top hairs, right? (Though, there is kind of a decent debate that Magical Mystery Tour is a better kids' album than Yellow Submarine; I mean my kid knows that a Walrus says "Goo goo g'joob" does yours?)
Either way, the Little Beatle Beatles are awesome and will get you pumped to start quoting all your favorite lines from the movie version of Yellow Submarine. My personal favorite? When Ringo sees a lever attached to a Frankenstein-looking monster, he says "I can't help, I'm born-lever-puller." And honestly, doesn't that just describe every single toddler everywhere?
Every product on Fatherly is independently selected by our editors, writers, and experts. If you click a link on our site and buy something, we may earn an affiliate commission.