All The Gear You Need To Get Tiny People Ripping And Shredding
Everything you need to get your grom, tiny grom or mini shred charging the slopes as early as 2 years old.
by Fatherly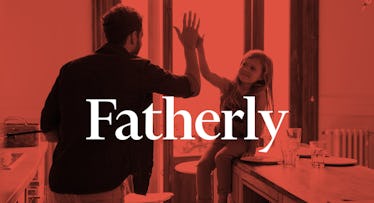 Take it from an authority like US Ski Team legend Daron Rahlves: If you want your kids to be skiers and snowboarders, get them started early. Like, 15-months-old early. That begs the obvious question of whether you should rent or buy equipment like baby snowboards and toddler ski helmets, which is actually pretty easy to answer: If you have more than one kid (or plan to), just buy the stuff and pass it down. If you only have one and don't expect to go more than once or twice a year, rent; but if they'll be on snow all winter long, invest in some gear. It will perform better, which means they'll improve faster, which means they'll like it better, which means you'll go more often. Win, win win.
RELATED: The US Men's Olympic Ski Team is Basically Downhill Daycare
As for their outerwear, there's only one hard fast rule: Don't trust anyone trying to rent you a jacket.
Kids Skis
Kids' skis should come up to between their chin and their nose. If they spend most of their time in the flying wedge, consider something 80 cm or shorter. If they're making parallel turns, move them up into the 100 cm range.
Bantam
Kirti
Sizes: 105 cm, 115 cm, 125 cm
Basically grom-ified versions of Armada's popular terrain park skis, the Bantam and Kirti are lightweight kids skis that are durable enough to withstand several seasons of your kids figuring out what it feels like to crash off – and then land off – the jumps in the mini park.
Kids Ski Boots
When they're really young, kids aren't pressuring the front of the ski boot like you do in a proper turn, so comfort is the most important factor – get a single buckle boot. Once kids are actually making turns, 2 and 3-buckle boots provide basic performance characteristics that encourage development.
Nordica FireArrow Team 1 (1 Buckle)
Sizes: 14 – 19.5
With a size range that goes down to 14, the FireArrow will fit your kid even if you're trying to get them skiing before they can walk. Nordica seems to know you're coming, too, because they made the ski boot from a plastic that stays easy to get in and out of no matter how cold it gets.
Full Tilt Growth Spurt (2 Buckle)
Sizes: 18 – 21.5, 22 – 25.5
The shell of the Growth Spurt expands and contracts with an allen wrench, and the ski boot liner's toe box is made from a stretchable neoprene similar to a surfing wetsuit. That means it will fit your kid through 3 different shoe sizes, which should get them through at least 2 seasons, unless you're an NBA center.
Kids Ski Poles
K2 Sprout
Sizes: 30 in – 42 in
Your kid won't need them until they've moved to a 130 cm ski at the earliest, but once they do the Sprout expands from 30 inches to 42 inches. That would cover them for a few years, except that kids this age are basically guaranteed to lose their ski poles at some point.
Kids Snowboards
The idea that you should always start little kids on skis before moving to snowboards has become less pervasive as guys who weren't necessarily skiers themselves before learning to snowboard have kids of their own. That said, the smallest boards made are 90 cm; if that comes up past your kid's chest, they're going to have a tough time turning it. You may have to wait a season or start them on skis after all.
Burton After School Special (with bindings)
Sizes: 80 cm, 90 cm, 100 cm
The After School Special is set up to work straight out of the box, with the bindings designed to be operated by small hands that are pre-mounted in a beginner-friendly stance. Bonus feature – if your kid decides they hate snowboarding, you can swap the bindings for trucks and wheels and use it as a skateboard.
Mini Turbo
Lil Kandi
Sizes: 90 cm, 100 cm, 110 cm, 120 cm, 130 cm (Mini Turbo only)
K2's smallest beginner boards features innovative rocker design, which extend to the rise of the the board's tip and tail to create a "catch free" turn radius – all shred-wonk speak for: these things are really easy to turn.
Kids Boots
Burton Grom Boot
Sizes: 7c, 8c, 9c, 10c, 11 – 13, 1 – 6
The Grom sizing starts at 7C, which is the smallest boot available in all of kids snowboarding, and goes all the way to a US kid's 6. The unique footbed system expands a full size, as well, so these boots should see them from "I don't know what I'm doing" through to "I sort of know what I'm doing."
Kids Outerwear
Reversible Tribbles Jacket
Snow Pile Bibs
Sizes (Jacket): 0m – 18m, 2t – 5t (Bibs): 2t – 5t
Patagonia's Baby line is for when kids are so small, only you care what they look like. The bibs add a layer of warmth around your kid's torso, and the Tribbles jacket has a weatherproof side for when it's snowing and Muppet fur side for when it's not.
Boys
Girls
Sizes: 2t – 5,6
Fully weatherproof, the one-piece design is significantly warmer than separate tops and bottoms and even has extendable leg and wrist cuffs to accommodate growth. More importantly, it's covered in Pixar characters.
Kids Helmets
Bern Nino/Nina
Sizes: XS – M
Bern's helmets have the benefit of being suitable for both summer and winter activities. Just line the Nino or Nina with its fleece inserts and their ears and noggin will survive the snow; replace that with the summer comfort liner and put them on a bike or skateboard, where they can do some real damage to themselves.
This article was originally published on