Does Your Kid Really Need an Airplane Harness Seat?
Maybe. But there are better options.
by Donna Freydkin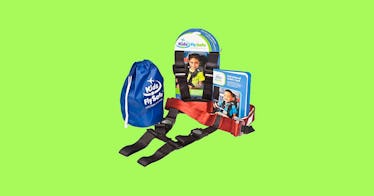 Lugging a massive car seat through the airport sounds about as appealing as changing a blown-out diaper in a filthy public bathroom. But if you plan on starting to travel again, your child needs to be restrained when on the plane. If you're flying with a child under age two, you can either hold the baby in your arms (and thus not pay for an extra seat) or get that extra seat and place your child in an FAA-approved airplane car seat. If neither of those sounds appealing, you can also opt for the Cares Kids Fly Safe Airplane Safety Harness. Yes, it's quite a mouthful, but it can also be the happy medium between trying to hold a toddler in your arms during turbulence (very bad idea) or dragging around a car seat.
But try researching the issue of flying safely with kids, and you wind up mired in confusion. That's because there's actually there's no such thing as a specific "airline booster seat." Why? Because booster seats have to use a shoulder belt and no airline has them. Planes use seatbelts.
So we turned to Dr. Benjamin Hoffman, a pediatrics professor at Oregon Health & Science University and the chair of the American Academy of Pediatrics' Council on Injury, Violence and Poison Prevention.
"It's not about saving lives. It's about turbulence," says Hoffman. "If the plane hits an air pocket, the risk is that people go flying into the ceiling. The best practice recommendation is for everyone to be as restrained as they can be. Younger kids, we always recommend putting them in their car seat. If that's not practical, CARES is an intermediate step. It's a fine thing to do."
The CARES child safety system is the only FAA-approved harness-type restraint for children who weigh between 22 and 44 pounds. It's absolutely fine, but…? Ideal? Not really. Yes, it works, but it also inconveniences folks sitting behind your kid, so in this age of sardine-esque air travel, it's a lot to ask of fellow passengers.
"In order to use it, it needs to wrap around the seat and it impacts the person sitting behind the seat with your child in it, because of the tray table. I have been on planes where people have refused to let the family use it and that is within their right," says Hoffman.
His point: You'll need a car seat when you land, so why not bring it on the plane with you (provided that it's FAA-approved for use on planes) and use it instead? "It's super easy to install using the lap-belt. It will do a better job than CARES will," says Hoffman.
So how do you know if your car seat is approved for use on planes? Per the Federal Aviation Administration, you need to make sure it has the following printed on it: "This restraint is certified for use in motor vehicles and aircraft."
And happy trails to you.
The Following Car Seats are FAA-Approved for Use on Airplanes:
Every product on Fatherly is independently selected by our editors, writers, and experts. If you click a link on our site and buy something, we may earn an affiliate commission.