This $55 Tent Is An Instant, Air Conditioned Playroom For Summer
It also keeps the kids playing inside cool.
by Dave Baldwin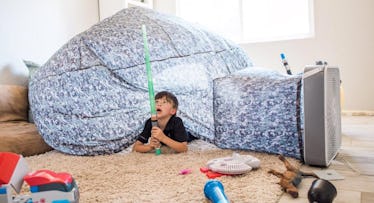 Flat-pack playhouses, card-table forts, and good old-fashioned pillows forts: There's certainly no shortage of rad play forts out there for kids today. But what about a cool kids castle that actually stays cool inside? That's the idea behind Air Fort, a kid's circus tent that inflates using a box fan.
Designed by a father-daughter team out of California, Air Fort is essentially a 4-foot tall, air-conditioned yurt for the living room. Simply attach a 20-inch household box fan (sold separately) to the tunnel section, turn it on, and the tent inflates in under 30 seconds. Obviously, the fan stays on to keep the Air Fort inflated and so the kids (and you) stay cool inside. There's also a mesh divider to keep them out of the tunnel and away from the actual fan itself, because safety first. Four adhesive tabs attach to the fan to ensure the tent doesn't blow clear across the room when you turn it on.
RELATED: The Best Camping Tents For Families
There's no door or floor on the polyester Air Fort ⏤ everyone just climbs in and out underneath ⏤ but there is a viewing window to make sure no parents sneak up undetected (or no kids up when you want some quality time with your spouse). The Air Fort reportedly holds up to five kids ages 3-to-15 and is 6.5-feet wide ⏤ so there's plenty of room in there for adults too. It comes with an easy-to-store drawstring pouch in two very not-gender-neutral colors, digital camo and pink.
This article was originally published on