A Standout Polo, the Perfect Pair of New Balances, and More Stylish Picks for Men
Our near-weekly pick of clothing and accessories worthy of your attention.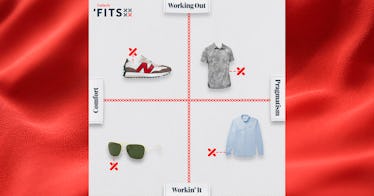 At Fatherly 'Fits, we showcase clothing and accessories that not only look good but go with everything you already own. You own your style, we're just coming up with a handful of choice items and then categorizing them for you — from comfortable to pragmatic, working out to, yeah, workin' it. If you like something, get it. If you don't, move on with your life. Style isn't something to obsess over. It just happens, over time.
Here, we're highlighting a kickass polo that you could wear to a workout, a pair of New Balances that redefine dad shoes, aviators that don't make you look like highway patrol, and a modern Oxford shirt that should become your go-to for dressed-up occasions.
Working Out / Comfort
The New Balance 237 Casablanca
There is no denying the slightly off-kilter appeal of the New Balance 327 Casablanca Red Monogram. All of the little details are just too good. The perforated leather upper; the suede overlays; the exaggerated heal-tread, which is oddly reminiscent of a driving loafer; the retro-inspired color blocking and oversized logo; and most of all — the red and green geometrical monogram. This is a wardrobe piece that declares to the world that you are not afraid to be who you are. The Casablanca was released in May of 2021 to great acclaim. New Balance sold out quickly, but pairs remain on resale sites like Stock-X. Prices range up to almost $200. However, New Balance stocks plenty of fire color at a more accessible price point.
Workin' It / Comfort
Ray Ban Caravans
The Ray Ban Caravan is the aviator's younger, hotter, more sophisticated sister. First available in 1957, the Caravan's slightly squared-off lens shape and double nose bar foster a sense of rugged minimalism. These are glasses you can wear out on the range to herd cattle or to an afternoon wedding. There's an inherent sense of effortless cool emanating from these frames; the design spares this you the motorcycle cop vibe accompanying the traditional Aviator's teardrop- shape. The Caravan is available in a variety of lens and frame-color configurations, but we recommend sticking with the classics: gold frames and standard green lenses.
Working Out / Pragmatic
Lululemon Polo: $88
The polo shirt is perhaps the most versatile piece of clothing for men. You're essentially wearing a t-shirt — but one with a collar and buttons — meaning you can wear this thing anywhere. Take it out to dinner and drinks, or to do some yard work, off to work, or to the playground. It's all fair game. Lululemon takes this staple and upgrades it in two important ways: First, the fabric is more comfortable, breathable, and a better fit (there is maybe no better brand for performance fabric). Second, Lululemon's patterns make you a little less of a chameleon, a little more Bowerbird.
Working It / Pragmatic
Maison Kitsune Oxford
The pale blue Oxford shirt is just about the most versatile item in any man's closet. Jacket and tie. Under a sweater. A la carte with the sleeves cuffed and two buttons undone. Tucked into chinos. Untucked with denim and pair hot sneaks. Maison Kitsune, the French/Japanese retailer's take on the old Oxford features pushes this old standard in a direction that could read as either casual or avant-garde. Straight cut along the bottom and a slightly rounded hem, helping you pull of that untucked-look without making you look like a slob.