This '90s Memory Game Turns Your Backyard Into a Board Game
Feeling nostalgic for the '90s? Build a giant memory game with your family to reminisce on the good ol' days.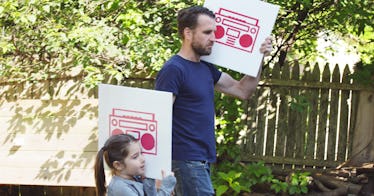 This story is sponsored by Krylon®, the spray paint brand that can easily restore, refresh, recolor, and revive any project.
Signs of the 90s are everywhere these days. Blame it on millennial nostalgia (guilty), but the bold abstract shapes are back; flannel shirts and ripped jeans never really left; and, yes, that distinct color palette is everywhere. Ah, that palette: bright as the 80s, but somehow bolder. Icy Grape, Popsicle Orange, Jungle Green, Hot Pink — they not only describe the re-launched Vintage Colors of the Krylon® Fusion All-In-One™ spray paint; they describe an era.
To celebrate 90s nostalgia and the highly awaited return of the Krylon® Fusion All-In-One™ Vintage Colors, we have put together a giant backyard board game you can make as a family.
Icons that defined the 90s inspire this retro twist on the classic memory game – VHS tapes, cellphones the size of radios, and, yup, a boombox that looks just like the one you had in middle school. Top it all off with the right colors to honor the era, using Krylon® Fusion All-In-One™ Vintage Colors.
With a few tools, Krylon® spray paint, some plywood, and a little imagination, you can build your own oversized outdoor memory game that the whole family can play this summer.
Follow this guide to craft a playing set for an outdoor game of memory.
What you'll need:
Six 4-foot x 12-inch plywood boards
Saw
Goggles
Measuring tape
Pencil
Sander/sandpaper
Stencils
Box cutter or similar cutting tool
Contact paper
Gloves
Krylon® Fusion All-In-One™ in Satin Bright White
Krylon® Fusion All-In-One™ in Vintage Colors (Gloss Hot Pink, Gloss Icy Grape, Gloss Popsicle Orange, and Gloss Jungle Green)
Step One: The Prep Work
Time: 30 minutes
How to: Measure and mark off each plywood board in 12-inch increments with a pencil. With a saw (preferably electric; wear goggles to prevent chips from flying into your eyes), cut the boards at each mark to create 20 12-by-12-inch plywood squares. Using 120-grit sandpaper (manually or with an electric sander), go over the perimeter of each tile to remove any rough edges.
Step Two: Create the Stencils
Time: 60 minutes
How to: Since this is a pairing-off game, with 20 tiles you'll need 10 different designs.
Using 12-by-12-inch sheets of contact paper, draw the design you want to appear on the tile then cut it out, leaving its relief (be sure not to cut through the edges of the paper).
Step Three: Spray-Paint the Picture
Time: 30 minutes
How to: Now it's time to properly turn back the clock with some sweet vintage colors. Carry tiles and contact paper out to the driveway or another well-ventilated outdoor area. Before reaching for the vintage colors, make sure to shake well and spray Krylon® Fusion All-In-One™ Satin Bright White onto the tile as your base. Once dry, lay a sheet of contact paper, sticky side down, on a plywood tile. Cover any edges surrounding your stencil with newspaper and painter's tape to prevent overspray. Grab a can of Krylon® Fusion All-In-One™ in one of their fun vintage colors, such as Gloss Jungle Green. Shake well and spray the tile, focusing on the area of the design. Peel off the contact paper when surface is dry to touch to avoid chipping or peeling and allow the wood to dry fully. Re-use that stencil on a second plywood square, repeating the process with the same color of Krylon® Fusion All-In-One™ to produce a matching pair. Go through the steps again with the remaining 9 stencils, using a different color or color combo for each pair, until you have created 20 spray-painted tiles.
Step Four: Play the Game
How to: Carry the 20 tiles out to the backyard and scatter them on the grass, design-side facing down. Call the family over, establish the order of players, and begin. Each player takes a turn flipping over two tiles at a time to try and create a match. If no match is made, the tiles are turned face-down again, and the next player gets a turn. Once a match is made, the player can pick up those two tiles and remove them from the game. The person with the most pairs at the end of the game wins.
This article was originally published on