8 Kits That Teach Kids How To Make Slime
Some are more creative, others more STEM-focused. All leave your kids happily grossed out with slime they can be proud of.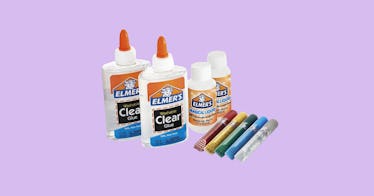 When you consider how disgusting many gross-out toys are, slime seems pretty tame. Instead of an imitation of a specific bodily fluid (which may be too risqué for some parents), slime is an ill-defined substance that still appeals to the kids' fascination with ick. The first toy version of slime was released by Mattel in 1976, and similar products, from Gak to Floam, have been on the market ever since. There are even kits available that let kids make their own slime, a creative activity that toymakers claim can incorporate STEM learning around chemistry and following detailed instructions. Here are eight of the best kits for kids who want to make their own slime.
Elmer's Slime Starter Kit
This kit comes with two bottles of Elmer's glue, two bottles of "magical liquid activator solution," and five glitter glue pens. The glue is clear, and when combined with the solution it makes a transparent slime base that kids can add glitter to. It's a simple way to make a quality slime.
Nickelodeon Super Slimy Set
Nickeloden's You Can't Do That on TV was the first show to prominently feature slime, and it's been a trademark of the network ever since. This set is part of a long line of Nick-branded slime toys including the aforementioned Gak and Floam. It comes with white and clear glue, activator, glitter, and tools to make glitter, glow, neon, scented, and foam bead slime.
SLIME! Science Kit
This kit is designed to teach kids about polymer chemistry, the branch of science most relevant to slime. It comes with step-by-step instructions how to use the included materials to perform 17 different "experiments," from slimy coal to sticky play dough. Tools like safety goggles and pipettes simulate being in a real lab.
Mindware Science Academy: Slime Lab
Alginate, a substance derived from brown algae like seaweed; calcium chloride; and food coloring are the only materials included in this kit. Using only these three substances and some included tools, kids can perform seven different slimy experiments, all of which prompt them to practice measuring and mixing for precision.
Ultimate DIY Slime Kit
This kit comes with the basics for slime, school glue and activator, in addition to fun additions like glitter, a powder that will make it glow in the dark, PVA solution for clear slime and a thermochromic powder for color-changing slime.
Discover with Dr. Cool Glow in the Dark Slime Science Kit
Far be it from us to challenge the credentials of Dr. Cool, but this kit feels decidedly less educational than many of the other options. It comes with two powders that become slime when you add water and stir. That's it. It's simplicity makes it a good choice for younger kids, who are sure to be more in awe of the glow-in-the-dark slime than the simple blue.
Original Stationery Ultimate Slime Kit
On the other side of the spectrum is this comprehensive kit, which comes with materials to make a wide variety of slimes, including jelly bead slime, chocolate slime, fruit slime (that fits in fruit-shaped molds), and cloud slime (made light with shaving cream). There's a lot more room for experimentation here, so this set works well for particularly creative kids who want to make their own varieties of slime.
Playz Disgusting n' Gross Science Activity & Experiment Set
Save this kit for the grossest of kids. It contains everything you need to whip up potent potables like zombie farts, bloody slime, boogers and fart putty. It is deceptively one of the more complicated kits on this list (it even requires some microwave use), so closer supervision isn't a bad idea.
This article was originally published on