6 Shawl Collar Sweaters For Boys That Look Dope — and Distinguished
Is anything cuter than little boys wearing old man clothes? Nope.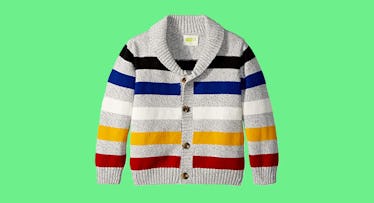 There is a long lull in the sartorial development of boys after they've developed free will but before they've developed a sense of style. This frustrating epoch is most salient in autumn, the season of sweater weather. My sons, for instance, have myriad knits from which to chose. Yet, both of them prefer a garish sweatshirt with a dinosaur on it, from H&M. No knock on fast fashion; H&M has some bomb-ass sweaters. But this is not one of them.
What is, however, is a shawl-collar cardigan. Shawl-collars sweaters are what happens when a Victorian smoking jacket fucks a knit cardigan, a piece of clothing first popularized by the Earl of Cardigan in the Crimean War. (That is, the one in 1853; not the 2014 one.)
On a man, especially a man like Steve McQueen or Sean Connery or Babe Ruth, it embodies a certain louche dering-do which is attractive on grown men and adorable on children. Since my boys are immune to arguments on the merits of menswear, instead I pitch the cardigans to them much in the spirit they were developed. The Earl of Cardigan was a well-coiffed man who resented the tussle a traditional sweater occasioned on his mane. My sons are small children who hate having things put over their head. Never before has the whimsy of the aristocracy and the petulance of five- and seven-year-old boys been more fruitfully aligned. Here are the season's best shawl-collar cardigans for boys.
Gymboree Kids Shawl Collar Cardigan
This is a shawl collar Fair Isle cardigan, pretty much a trifecta for menswear geeks and their sons. The sweater itself is 100 percent cotton with ribbed sleeves and two front pockets. Pipe and dram of whiskey sold separately.
Carter's Boy Shawl Collar Cardigan
Sometimes, when your son is at the playground and he's rocking his shawl collar cardigan and another kid comes up and he's rocking his and your son, for whatever reason, takes it as an opportunity to one-up the other kid (as opposed to finding an affinity group) it's good for him to be able to point at the buttons of the 100 percent cotton knit and say, "you see these buttons, they're horn, man!" Happily, with this contrasting collar shawl collar cardigan, your son can say that. Although, we might suggest a more friendly, "Hey, nice sweater."
Crazy 8 Toddler Boys' Long Sleeve Button-up Shawl Cardigan
Who says old man baby sweaters can't be exuberant? Here's your standard shawl collar cardigan — a 60/40 poly-cotton blend — with delightfully twee multicolored stripes on it.
Shelby Cardigan by Appaman
It is perhaps only a Scandinavian company that could produce an old man sweater for children in Aztec patterns without it feeling ickily cultural appropriation-y. But thanks to the Norwegians and their facility with twill and blithe approach to American history, that this sweater exists and that your son can rock it with skinny jeans and fucking rule.
Hope & Henry Shawl Collar Cardigan
It takes a boy with man-size balls to rock a pinkish heathered shawl collar cardigan. On the other hand, one isn't born with toughness. One builds it. Alone among these options, this one is made with 100 percent organic cotton which is, by the way, the hallmark of this relatively new company founded by ex-Gymboree CEO Matthew McCauley in 2017.
Brooks Brothers Shawl Collar Full-Zip
For fancy little boys who are frequently cold — basically, this sweater is for Edward Gorey as a child — this Brooks Brothers option is made with 100% merino wool and is the only one with a full zipper closure, perfect for kids who can't be arsed to use their fine motor skills.
This article was originally published on