Ways to Make Sure Your Kid's Winter Shoes Don't Slip and Slide
Help your kid avoid any dangerous falls this winter.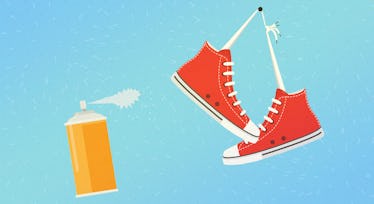 You love your kid, but you also know he or she a bit of a klutz. You've spoken to a financial planner about this. You fret over open enrollment periods annually. And though you don't think of a fall as that big of a deal, you are aware that there are one million reported injuries caused by slipping or falling every year in the United States. You further understand that the chances of your kid suffering a major spill are especially high during the winter, when injuries caused by falling nearly triple. What do you do? Well, you hold the kid's hand and you don't wear loafers and, if you're very very very smart, you mess with the traction on the kid's shoes. A bit of effort on that front can save everyone a lot of grief.
RELATED: The Best Back-to-School Kids Shoes, Sneakers, and Boots
Here's how to do it.
Traction Spray (Or Hairspray)
While you can't currently buy snow chains to put on your kid's shoes, you can add some much-needed grip to their step with a little bit of traction spray. Some quality adhesive shoe spray is surprisingly affordable and can protect your kid from the snow. If you ever need to add some traction but don't adhesive spray at home, hairspray works as a substitute. It won't do as good of a job as a higher quality spray but it can still provide some solid traction for slippery shoes.
Rubber Glue and Salt
Mixing salt with some basic rubber glue can create a grainy texture that will prevent unnecessary slips that might lead to serious injury if you stick it to the bottom of your kid's shoe. Some use sugar instead of salt but the consistency and size of salt grains make for a better resistant. Just make sure you are using rubber glue instead of real glue or you may end up having to buy a brand new pair of shoes for your kid.
Sandpaper
This is a great trick for new shoes that haven't been worn down yet, as scuffing the bottoms of shoes with sandpaper could save your kid from suffering any big winter falls. You could also use a nail file if you are worried about doing too much damage to the soles of shoes, as it will make the kid's shoes less slippery without excessive scuffing. Of course, sandpaper or a nail file will only be effective for shoes with soles made of leather or plastic. And if you use either too much, you could damage the quality of the shoe. You're just looking to sand the smooth finish off the sole of the shoe.
Puff Paint
Puff paint is commonly used for arts and crafts but unlike most paint, it dries and creates a rough texture that can add some grip to your kid's shoes. All you need to do is paint a thin coat on the bottom of your shoes and wait a few hours for the paint to dry. It will last longer than hairspray but still needs to be applied on a somewhat regular basis. Obviously, make sure you are using puff paint instead of regularly paint or you will just end up ruining your kid's favorite kicks.
Masking Tape
Desperate times call for desperate measures and if you find yourself in a tight spot and need to get some immediate traction for your kid's shoes, masking tape could save your family from disaster. Simply lay two strips of tape in an "X" pattern on the bottom of the shoes to create a bit of traction. The tape won't last long, but could be the temporary solution to survive winter until you can find a long-term solution.