These High-Tech Grill Thermometers Will Step Up Your Searing
These advanced thermometers will give you perfectly cooked meat every time.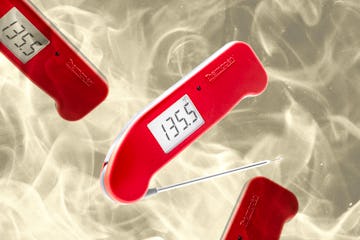 One of the most critical shifts when honing your grill game is the addition of a great grill thermometer. This is because the best grillmasters know that meat is done when it reaches a specific temperature, not necessarily after it has cooked for a certain length of time. Pull that ribeye off the grill before it reaches an internal temperature of 120 degrees, and you'll find it's a bit too red — and possibly not even safe — for consumption. Wait until it's blown past the 160-degree mark, and you may be chewing until it's time for breakfast.
Fortunately, grill thermometer technology has taken significant strides over the past few years as the stability of wireless connectivity has increased and designs have become more compact and durable. We've been trying out some of the most technologically advanced offerings this summer, and they've made it easier to pull our food off the grill at just the right time.