5 Genius Hacks for Camping With Kids
Extreme s'mores, for the win.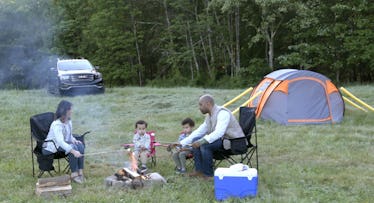 The following was produced in partnership with BuyPower Card. When you use your BuyPower Card on your next outdoor excursion, you can earn towards a new GM vehicle and many more adventures ahead.
Tenting it with youngsters is always an adventure, so kudos to you for getting the kids out there. Now, let's make your experience a little easier. We've got five smart camping hacks that don't require any fancy equipment or major MacGyvering to pull off. Just round up a few items your family likely already owns, and you'll be set.
Hack 1: Construct a Comfy Tent Floor
What you'll need: An interlocking foam play mat.
To protect those little knees (and your back) from the tent's hard floor, grab your kids' interlocking play mat from the rec room and bring it along. Once you've set up the tent, corral the little campers inside to help piece the mat the together. Boom. You've got a colorful, cushy surface to crawl, walk, play, and sleep on.
Hack 2: Pool Noodle Tent Ties
What you'll need: 4 to 6 neon foam pool noodles and a pocket knife.
No matter how many times you tell the kids to watch out for the tent's tie lines, someone is bound to hook their hoof and go flying. A brilliantly simple way to prevent tie-line trip-ups? Thread each tent cord through a neon foam pool noodle before staking the line into the ground. For shorter cords, use your pocket knife or a heavy-duty scissors to chop the noodle into the appropriate size. Your crew may still bump into the foam tubes while shuffling around the tent, but nobody will slice their shin or do a full face-plant.
Hack 3: The Campsite Organizer
What you'll need: An over-the-door shoe organizer, one long rope or p-cord.
Where'd the Aim 'n Flame go? Who had the soap last? To help you keep track of those easy-to-misplace camping necessities — and keep your campsite tidy — bring along an over-the-door shoe organizer with eight to 12 clear-plastic pockets. Rig up a clothesline to hang it from, or sling it over the crossbeam of your pop-up canopy tent. Or, if you're lucky enough to score a tree with the perfect branch at your campsite, go with that. Wherever you hang the organizer, fill the pockets with matches, tea lights, dish soap, washcloths, headlamps, flashlights, first-aid supplies, cooking utensils, and any other must-haves that fit.
Hack 4: Extreme S'Mores
What you'll need: Waffle cones, aluminum foil, chocolate bars, marshmallows.
Yeah, s'mores are a classic campfire treat, but cleaning up sticky hands outdoors is a pain. Besides, do you really want your youngest wielding a flaming marshmallow on a stick? Here's a safer, much-less-messy plan: Pack all your favorite s'mores fixin's—marshmallows, Hershey's bars, banana slices, graham crackers, nuts, strawberries—plus a package of waffle cones. Let your kids stuff the cones full of whichever goodies they choose and then wrap their creations in aluminum foil. Lay them on the campfire grate for a minute to get gooey, then remove, let cool, unwrap, distribute, and indulge.
Hack 5: Water Bottle Light
What you'll need: 2 headlamps, 2 clear bottles filled with water.
What's more annoying than fumbling around in a dark tent? Being blinded by your child's headlamp beam as they're changing into their PJs. When it's time to turn in for the night, bring two headlamps and two full water bottles into the tent with you (bottle size doesn't matter, as long as they're clear and sturdy enough to stand on their own). Set them on the floor in two opposite corners and twist a headlight around each to give you a soft, indirect light source. Bonus: everyone will know where both the water and the light are should they need either throughout the night.
Pro Tip: Use the Right Card for Your Purchases
One more tip: Use your BuyPower Card to buy the materials for these hacks, and you'll be earning towards a new GM vehicle and many more adventures ahead. Just the extra room you need for that extra-large tent, oversized cooler, or another little camper, if you're so lucky.
The BuyPower Card is issued by Capital One, N.A. pursuant to a license by Mastercard International Incorporated. General Motors is responsible for the operation and administration of the Earnings Program.
BuyPower Card Earnings may not be used with fleet vehicle incentive programs or with some other offers and discounted sale programs, such as the GM Employee Discount Program, GM Company-Owned Vehicle Discount and GM Supplier Discount Program. Other exclusions may apply. Read full Rates & Disclosures.
This article was originally published on