These 3-D Rugs Look Like Full-On Worlds
Kids will make imaginary worlds out of a carpet, anyway — these play rugs help them along.
by Emily Kelleher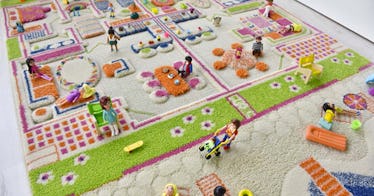 Making up stories with dolls, cars, animals, and other toys is something most kids do throughout their childhood, and for good reason. Playing like this helps kids develop creativity, figure out how the world works, and even process their feelings. This kind of developmentally appropriate play spurred the creation of a whole genre of clunky plastic toys, ranging from the Barbie Dream House to just about every Hot Wheels track. But there's a newer, better-looking, more practical toy in town, which sits only an inch or so off the ground and feels a whole lot better to step on than a Lego. Parents, meet the 3-D rug.
Basically hyper-detailed area rugs, 3-D kids play rugs depict different scenes — farm landscapes, city blocks, houses — with props like furniture, greenery, or road dividers woven, or "built," into the rug. Kids can use the 3-D carpets to act out whatever scenes they can dream up, much like they would with a dollhouse, race track, or toy barn, but without the need for so much stuff.
Since 3-D rugs feature lots of texture, they also provide quality sensory play. And since they look decent — especially the beautiful ones made by Ivi — they can just stay on the floor, and actually improve the look of the room while serving as both low-key inspiration for kids and easy-access toy. Whether your kid is into action figures or toy tractors, farms or mid-century mansions, there's a 3-D carpet for them.
The Best 3-D Rugs
More Fun Play Rugs
Every product on Fatherly is independently selected by our editors, writers, and experts. If you click a link on our site and buy something, we may earn an affiliate commission.