21 Hacks for a Clean and Streamlined Kitchen
How to keep the most popular room in your house neat and organized.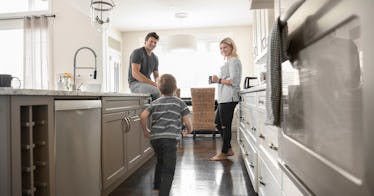 This story was produced in partnership with Swiffer.
Sure, you like to lounge in the den and hang with the family in your living room. But increasingly, the kitchen — with its open floor plan, casual seating, and addictively good smells coming out of the oven — is cited as the most popular room in the house. A recent survey of more than 1,000 people in their mid-20s to mid-40s found that one in three say the kitchen is their favorite room.
That matters because the kitchen is also the room with the most potential to be a mess. By nature of what it's designed for, the kitchen will always be transitioning through various stages of dirty dishes, food crumbs, used cooking utensils, pots, pans, and kids' art projects. Keeping the space clean and floor sparkling can seem like a fantasy to parents with young children. Fortunately, a few tricks can go a long way for maintaining a sense of order.
1. Organize your measuring cups.
All those plastic cups and spoons are impossible to sort through when you store them in a drawer. Instead, attach a corkboard to the inside of a cabinet door, and add push-pins or thumbtacks to serve as hooks. Place measuring cups on hooks for an easy-to-access solution.
2. Use egg cartons as condiment holders.
Half-used bottles of mustard and ketchup clutter countertops and jam up the fridge. Not with this tip: Take the bottom half of an egg carton and place it in the fridge side panel. Turn condiment bottles upside-down and place in the carton crevices. While you're at it, rethink the way you keep all your staples, getting new storage containers for your coffee and other such items.
3. Purchase a dog food canister.
Trying to parcel out Fido's kibble from that giant green bag on the floor is untidy at best. Pour the contents into an opaque, plastic canister, place scooper in canister, seal canister lid. Looks better, stays fresher, keeps floor cleaner. For parents with small children, there is plenty of childproof pet gear to keep your kids away from the kibble.
4. Store snacks in clear bins on shelves.
Remove granola bars and individually packed snacks from their cardboard boxes, and place them in clear storage bins so you can see what you have without rummaging through boxes.
5. Elevate the dog dish.
No more kicking over the water bowl or struggling to clean around your pet's food dish. Repurpose an old shelf by carving two large holes in it for the water and food bowl, then mounting it with a screw to the side of your kitchen cabinet. (Shortcut: Purchase an elevated feeding station for your dog, then raise that up a few inches by attaching it to the side of your kitchen cabinet with strategically placed screws.)
6. Mount a magnetic knife holder.
Use the space behind the sink to store knives. The simple bar makes it easy to grab what you need and put it back when you're done, and keeps sharp objects away from small kids.
7. Clean with the Swiffer® Sweeper® Floor Mop Starter Kit.
The genius behind this product? All Starter Kits have dry refills for sweeping and wet refills for mopping. The two-in-one action gets all the dirt and grime off your kitchen floors.
8. Create a spray bottle organizer.
Tidy up your cleaning-bottle storage space by installing an inexpensive, expandable curtain rod in the cabinet below your sink. You can hang the nozzles over the bar to keep all your spray bottles in a row.
9. Turn your backsplash into a utensil holder.
Like the corkboard in your cupboard but for heavier items, a pegboard is the perfect spot to hang strainers, cooking tongs, and other large utensils.
10. Look up.
Take advantage of all that dead space above your head by installing a ceiling-mounted rack for pots and pans. It gives your kitchen a very Euro-chic look while freeing up counter space and keeping your stovetop from becoming a total mess.
11. Put under-cabinet space to work.
Another spot in the kitchen that tends to be wasted: The gap between the bottom of your dish cabinets and countertop. Attach a simple wine glass rack to the cabinet underside using two screws, and you'll save storage space while also creating an elegant look.
12. Put away the plastic wrap.
Office supplies are good for more than just the office. The rectangular shape of the boxes holding plastic-wrap, tinfoil, and sandwich bags fits perfectly into a repurposed magazine holder. Store neatly on your countertop for easy access, or drill two holes in one of the holder's vertical sides and screw it to the inside of a cabinet door for storage.
13. Add a welcoming scent.
Being in an area with so much food, scraps, garbage, and cooking ingredients means your kitchen can end up smelling less than pleasant. Load up your Swiffer mop with the Swiffer® Sweeper™ Wet Heavy Duty Lavender Vanilla & Comfort floor wipes. Clean floors, soothing scent. Perfect.
14. Organize your cutting boards.
Speaking of office supplies, put some order in cumbersome cutting boards by stashing them in the slots of an old-fashioned office file organizer. The wire separators are the perfect distance apart to hold boards in place, while the inch or so lift off the countertop keeps edges from getting moldy.
15. Consider a cart.
Where space allows, a free-wheeling cart can serve as a center island in your kitchen, while also providing great storage. You can move it around the room easily depending on the project, or out of the room entirely if you need the space to clean.
16. Place trash under the sink.
It's true, stashing your can under the sink takes up storage space. On the other hand, it also frees up the kitchen floor from the slop that accidentally dribbles over the side when you are cleaning up after dinner.
17. Get a highchair hook.
Where do you put Junior's seat when he's not sitting in it? You could leave it out, but it is neater to get a coat hook and tie it behind the kitchen door.
18. Purchase a happy-accident rug.
Cooking is fun. It's also messy. Take the stress away by buying a durable outdoor non-skid rug long enough to stand on while you cook, tough enough to absorb whatever you drop on it, and cheap enough that if you need to toss it after a particularly nasty run-in with a jar of tomato sauce, you won't cringe at the cost.
19. Label everything.
A little sign that indicates what's in each mystery jar or bowl on the counter top, and which drawer holds what supplies, goes a long way toward maintaining order in the kitchen.
20. Store dishtowels in shoe organizers.
You know those hanging shoe organizers with the nifty little pouches to stuff your soles into? Each of those spaces is the perfect size to hold a dishtowel. Line the back of your broom closet with one of these organizers, then add towels so they are ready for you to grab the next time an accident arises.
21. Call in the reinforcements.
Sometimes, due to heavy kitchen use — say, clean up after an extended family dinner — your traditional sweeper and mop won't cut it. In those cases, consider Swiffer® Sweeper™ Dry Heavy Duty Sweeping Cloths. They lock in twice as much dirt from your floors because of their ultra-thick pad.
This article was originally published on