12 Ways to Power Up Your Parenting with Nintendo
Nintendo-loving dads are a special sort.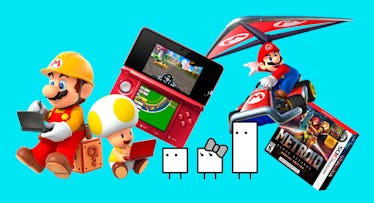 The following was produced in partnership with our friends at Nintendo and features games playable on the Nintendo 3DS family of systems.
If you are a gamer, there's no bigger pleasure than to bring your kids under your wing. With the right kind of supervision, playing video games can be mentally stimulating and a key part of family bonding. For those gamer dads who are hooked on Nintendo, your work is cut out for you. From playing card to pixelated adventures and even one of the most inventive uses of cardboard ever seen, Nintendo has been inspiring creative play in families since 1889 (it started as a playing card company), with a little something for every type of gamer. The Nintendo 3DS family of systems is an especially great way to get your kids started in the world of Nintendo — here are 12 reasons why.
1. Super Mario has been there for you through it all.
Mario has stepped on Koopa shells and smashed bricks for three decades and he did it all to your delight. Now, he can do the same for your kids. Of course, there are various games featuring the Nintendo mascot, but there's more variety in those games than Mario has power-ups. You want a traditional Super Mario side-scroller? There's New Super Mario Bros. 2. Want one that brings Mario into the third dimension? Try Super Mario 3D Land. Want a game focused on just Luigi? He's got a game too (Luigi's Mansion: Dark Moon). There are dozens and dozens of options for your family when it comes to the king of Nintendo.
2. Because amiibo are freaking cool.
They might look like a tiny statue paying tribute to your favorite Nintendo characters, but amiibo figures can add a layer of virtual fun to some of your kid's Nintendo 3DS games (they are also compatible with New Nintendo 2DS XL systems). One Super Mario or Pikachu amiibo can level up characters or unlock bonus content in compatible games when you tap the base of the toy to the screen.
3. Because you get to play Mario Kart 7 with your kids (what more could a dad want?)
Mario Kart remains a staple of family gaming night. For over 20 years, the racing game featuring characters from Super Mario and Nintendo games is easily one of the most fun game you can have as a family because it's all about who will win the race. Mario Kart 7 will not only let you engage your kids in some fun competition, but it'll teach them how to toss a banana peel in just the right spot.
4. Because you get to see their mind at work.
When you and your kid collaborate over a complex game like The Legend of Zelda: A Link Between Worlds, you get to see their brains at play. As they're engrossed in the mechanics and working hard to come up with strategies, shortcuts, and solutions, you get to share something that no movie or TV show could replicate.
5. And can introduce them to your favorite legends.
The Legend of Zelda: Ocarina of Time is, in our humble opinion, one of the all-time best Legend of Zelda games. But that was on Nintendo 64. Back in 1998. Luckily for the younger generations, Nintendo remastered the classic for the Nintendo 3DS. Critics lauded the game as the greatest remastered game ever re-released. Plus, it finally gives you a reason to buy an ocarina and learn how to shred Legend of Zelda themes with the kids.
6. Car rides are better with a Nintendo 3DS.
Got a long road trip to Nana's? Bring the Nintendo 3DS for the kids. Expecting a big wait time at the doctor's office? Bring the Nintendo 3DS for the kids. The beauty of Nintendo 3DS is its portability making it possible to game on the go. Plus, it's better than the kids begging to play with your phone.
7. Because New Super Mario Bros. 2 is the game you grew up on, but with truly cooperative play.
Created in the same vein as the classic side-scrolling Mario games you grew up playing, New Super Mario Bros. 2 is a classic with a new, golden coat of paint (the game focuses heavily on collecting coins). Best yet, it's a co-op game, so you and your kid can experience the priceless moments only couch co-op games can create. (Additional games and systems required for multiplayer mode; sold separately.)
8. It's the gift that keeps on giving.
Summer is the start of the biggest game releases of the year, and it's no different for the Nintendo 3DS family of systems. Summer releases this year include Captain Toad: Treasure Tracker (another Super Mario spin-off), and WarioWare Gold (a microgame collection starring Mario's wackiest antagonist), all which will ensure the Nintendo 3DS family of system's future holding status as king of handheld games for your kid.
9. Because The Legend of Zelda: A Link Between Worlds picks up where you left off before you had kids.
Creating a sequel over 20 years after the initial release may seem unorthodox, but The Legend of Zelda: A Link Between Worlds shattered expectations. The game has everything you know and love about its predecessor — The Legend of Zelda: A Link to the Past — including exploring Hyrule, defeating Ganon, and solving clever puzzles. It serves as a time machine to your own gaming past and your kid's future. And as part of the Nintendo Selects library of titles, it's available for a suggested retail price of only $19.99.
10. Parental controls matter, and Nintendo gets that.
Look: a handheld, portable, wifi-enabled, internet capable device can give a child access to everything online. Nintendo understands that. And because of that, they've enabled parental controls that allow you to restrict things like the use of the internet browser, online interaction in games, access to games based on their ESRB rating and more. That stuff matters.
11. Because Super Mario Maker is the next best thing to building blocks.
If you're looking for a game that can spark creativity, imaginative play, and more world building than button-mashing then look no further. Super Mario Maker for Nintendo 3DS allows gamers to create their own Super Mario levels using a wide range of elements from Mario games (pipes! Koopas! Bob-ombs!). You can also create a unique bonding experience by making worlds ever-more imaginative, and fun — like a stage with multiple Bowsers that bounce on trampolines.
12. Because it allows you to explore fantasy worlds together.
This is not to say you should skip the night-time reading — by all means, keep reading with your kids! — but exploring a new world together, sometimes haphazardly, sometimes with great purpose, is a worthy adventure indeed.