11 Tips for a Perfect Day at the Beach
There's nothing quite like cozying up to a body of water with the family. Just make sure you're prepared for the elements.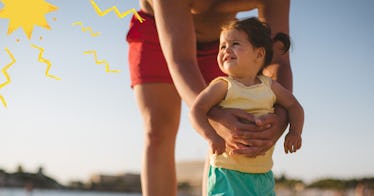 This story was produced in partnership with our friends at Babyganics, whose mission is to help families prepare for all of baby's adventures.
Whether it's on the sandy dunes of a lapping ocean, the pebbled shores of a giant lake, or a silty knoll beside a flowing river, cozying up to a body of water with your family makes for a good outing. Of course, it's not all idyllic: bugs, scorching sun, or chilly breezes can throw your day in the sun into grumpy disarray. Some pre-planning is required. Whether you're headed lakeside or oceanfront this summer, here's everything you need to make your family outing a success.
Find shade. Step aside, beach umbrella. The best way to get shade when and where you want it is with a pop-up tent. Look for versions that have mesh window screens, to allow the breeze to ventilate the space and blow away any black flies. If you're in a jam, you can use a tarp or heavyweight sheet, jerry-rigged with two ski poles: Bury two corners of the sheet in the sand (place a cooler or other heavy object on each corner for weight) and secure the other two corners to the handles of the poles with rope or a bungee cord, before staking the pointy ends into the sand. The lean-to style allows the breeze to flow through but keeps the direct light out.
Bring more towels. In a perfect world, you'll have one towel to dry your child off and another for them to sit on when the ground gets soggy or the sand is too hot. Two per person might seem like a little much, but it's the right ratio. Trust us.
Pro Tip #1: How to Properly Pack Your Cooler
As a rule of thumb, a party of three or more kids warrants a hard-shell carryall for lunch and other edibles. Here's how to pack it:
First… freeze items like grapes, fruit cups, and drink boxes overnight. They will thaw in the sun, and you can use them in lieu of ice to keep the cooler cold without dealing with melting cubes.
Next… in the morning, pack heavier items (see above, in addition to hard fruits and veggies) on the bottom of the cooler.
Then… pack a layer of paper towels. They double as napkins or clean-up wipes and prevent any moisture from the frozen items from making sandwiches soggy.
Finally… top it off with sandwiches, chips, and other lightweight items.
Bonus… to keep the cooler from stinking like, well, tuna on rye, place a small refrigerator odor eliminator inside the cooler.
Get the right sunscreen lotion. Keeping your little one safe in the sun should be your top priority. Make sure your infant — those under 6 months of age — avoids sun entirely. For older babies and toddlers, skip the products made with phthalates and parabens, and choose an option like Babyganics SPF 50+ Sunscreen Lotion, which feature broad-spectrum UVA/UVB protection and are water-resistant (up to 80 minutes).
Buy a big mesh bag. Stashing plastic pails, shovels, action figures, and more in a traditional canvas tote prevents toys from drying, leading to mildew. Instead, get a laundry-style mesh bag that keeps the toys in and lets the water run out as you walk from the beach to the car.
Pro Tip #2: How to Apply Sunscreen
There's not much point in wearing it if you're not wearing it right.
Step 1: Apply sunscreen 15 minutes before sun exposure.
Step 2: Use about an ounce (the amount that would fit in a shot glass). Apply liberally and evenly, moving your hands in a circular motion.
Step 3: Make sure to cover all areas, even random spots like fingers, feet, ears, and behind the neck. Consider using an SPF lip balm on lips.
Step 4: Re-apply after 80 minutes of swimming or sweating, and immediately after towel-drying. Even if the kids aren't in the water, they need a fresh application at least every two hours.
Bring a bed sheet (or three). Use an old flat sheet from a queen- or king-size bed as your basecamp. It's not sand-proof or waterproof, but if a thunderstorm should suddenly pop up on the horizon, all you have to do is grab each of the four corners together and you have a makeshift bag to haul towels and toys to the car in a hurry.
Switch to spray sunscreen. If your kid hates the feeling of lotion being rubbed in — or complains the process takes too long — try Babyganics SPF 50+ Sunscreen Spray instead. The tear-free formula is non-allergenic and made with your baby's skin in mind.
Pro Tip #3: How to Snack Outside
Sweat causes the body to lose important electrolytes like sodium, which can lead to muscle cramps and headaches. Here's what you need to keep kids feeling good:
V8 juice and pretzels provide salt, which helps the body hold onto fluid instead of sweating it all out.
Bananas are high in potassium, another key electrolyte that maintains a healthy heart rhythm and blood pressure.
Raisins are a great source of electrolytes calcium and magnesium, which stabilize muscle and nerve reactions.
Water is critical to make sure kids stay hydrated. The Institute of Medicine suggests children ages 4 to 8 need two quarts a day (about 5 cups), but that could go up to 2.5 quarts in the heat. Make sure kids take water breaks every 20 minutes or so if they are running around in the heat.
Be prepared for battle with bugs. A breeze-free day at the beach means there will be bugs. Protect your family from mosquitoes with Babyganics Natural Insect Repellant. The DEET-free formula uses citronella, peppermint, and other essential oils to naturally discourage mosquitoes. Apply every 90 minutes for best results.
Wear layers. Early mornings by the water can be nippy at the beach, even in July in the South, while midday may feel downright tropical. And when the afternoon breeze kicks in, it can get surprisingly chilly in a hurry. Dress your kids (and yourself) in easy on-off layers, like a T-shirt, button- or zip-up hoodie, and an outer water-resistant shell.
This article was originally published on