10 Tips for a More Clean and Efficient Foyer
Easy ways to spare the main entrance to your home the unpleasant mess of winter.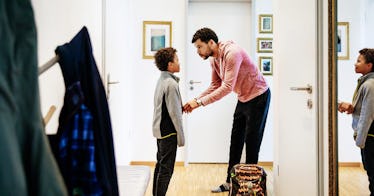 This story was produced in partnership with Swiffer.
Winter wreaks havoc on just about everything: Heating bills, driveways, travel plans, and of course, your home. Between gritty boots, dripping snowsuits, and ice-melting salt tracked in from the street, the hardwood floors in the foyer of your home take a major beating. Fortunately, keeping things clean and orderly doesn't take much time — just a little planning. Here's how to get started.
Add hooks.
Coats get squished and knocked off hangers in the hall closet. Plus, hanging soggy jackets in a closed space is like sending out an invitation to mold and mildew. After you've exhausted your closet organizer options, hang hooks along the entrance hallway and assign one space per family member (you can even put each person's name or initials in block letters above the corresponding hook) so kids don't fight over where their coat should go.
Make a mitten basket.
Without a doubt, cold-weather accessories are the bane of parents' winter existence. Can't find the other glove? Hat gone missing? Scarf stuffed into the sleeve of which-jacket-you-can't-remember? One basket for everything solves that last-minute mystery. Get one with a soft-closing lid for an even tidier foyer appearance. Alternately, consider a storage bench for the foyer, an attractive, space-saving solution that provides seating when it's time to put the boots on, and storage when it's time to take things off.
Use gentle-cleaning pads.
The soft surface of microfiber-like cleaning pads means they remove dirt from your foyer's wood floors without scratching the surface. Check out the Swiffer® WetJet™ Mop Wood Floor Starter Kit, an all-in-one system that can absorb and lock dirt deep in the pad so it doesn't get pushed around the floor, doing damage. Bonus: The WetJet™ comes with a fine-mist spray that's safe for all finished hardwood floors as well as lights that turn on when you spray.
Buy an indoor mat.
You probably have one outside your front door, but you should place one inside as well for a second shot at removing dirt before it gets tracked into the house. Mats that have a rubberized grip on the backside and traction on top work well on wood floors to prevent any slip-and-slide action.
Get an umbrella stand.
In one easy move, you can store your rain-protector and protect floors from water damage. Look for one with a closed bottom to collect residual droplets and open sides to let the fabric air out. The tricky part: Being disciplined about using the umbrella holder for its intended purpose, since the convenient shape makes it tempting to store everything from yard tools to Wiffle bats.
Hang a shelf or basket for dog essentials.
No one wants to look at the chewed-over leash, poop bags, and random fetch toys. Store them on a shelf or in a deep hanging basket dedicated to Fido, along with a soft, terry cloth to gently wipe down dirty paws before venturing into the house. A shelf is a great start, but keep on the lookout for other pet products (there are ample) to help keep your dog, and their space, tidy.
Get a boot rack — and tray.
Lining wet shoes up along the floor will warp the wood and remove its shine. Purchase a rack that elevates shoes an inch or two off the ground, allowing you ample space to slide a mop beneath. You can also get one that attaches to a closet door — like the one here — to keep them high and out of the way. On wet or snowy days, place a rubber tray beneath the racks to collect drips.
Remove funky smells.
Everyday dirt can develop an unpleasant aroma when left to fester on your foyer floor too long. Give the entrance to your house a welcoming, fresh scent by using Swiffer® WetJet™ Wood Floor Cleaner Solution Refill Inviting Home Scent when you mop. The pre-mixed solution gets rid of the stench while drying quickly without streaks.
Stash disposable shoe covers near the door.
Some messes are too big to drip-dry on the shoe rack. Disposable covers, like the ones doctors wear in the ER, can be slipped on upon entry to your home, then worn to your basement or laundry room where dirty sneakers can get a proper cleaning.
Get a cork board.
Kids come home from school with all sorts of papers; you come home from work or running errands with a bag full of receipts and shopping lists. Somehow these papers always find a way onto the floor, where they get crumpled up and stepped on. An old-fashioned cork board in your foyer, complete with kid-safe tacks, allows everyone to keep tomorrow's homework assignment instructions, eyeglasses, and note to the gym teacher out of harm's way while keeping floors clutter-free.
This article was originally published on