Wyclef Jean On His Favorite Toys, How He Played As A Child, And Why Inclusive Toys Matter
The record-breaking rapper sees a world of great toys — and better play for our kids.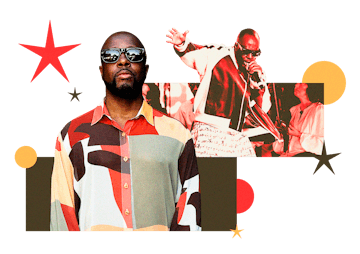 Ariela Basson/Fatherly; Getty Images
Wyclef Jean is the authentic American success story. An immigrant embedded in the Brooklyn projects as a young kid, no one suspected this son of a minister was destined to become one of the most influential musicians of his time. His version of "Killing Me Softly With His Song" might outshine the original by Roberta Flack, and he managed to make a Bee Gees classic even more toe-tapping with "We Trying to Stay Alive." Whether it was making smash hits with The Fugees or Shakira, producing for others or rapping on his own, or even scoring a TV show like The Chi, Wyclef can check every box off on his prolific list of achievements in the industry.
Wyclef's life before he became a music mogul is a literal rags-to-riches tale. As he explained in his memoirs, meals were so scarce as a young kid growing up in Haiti that his family would sometimes be forced to eat dirt off their floor. These days, his focus is still on his art, but it's also about giving back on a global scale. On this occasion, Wyclef has turned his attention to children's toys.
Fatherly caught up with the three-time Grammy award-winning "Perfect Gentleman," and dad to an 18-year-old daughter, ahead of his upcoming performance at the Toy Of The Year Awards in NYC on September 29. It's a unique pairing — a certified Platinum Record holder and a yearly award show and charity event organized by The Toy Foundation about dolls, games, action figures, and other things your kids play with on a daily basis. Nominees for this year's various awards include BIPOC dolls with hair authentic to who they resemble, innovative board games that get brain cells cranking, and of course — some Teenage Mutant Ninja Turtles action figures! It also precedes the New York Toy Fair at the Javits Center in midtown Manhattan.
But for the eclectic philanthropist Wyclef Jean, it's not all sales and marketing — it's a celebration of ideas turned into toys, aimed at kids, and striving to change the world through play and imagination, with proceeds from donations going to great causes. Here's what this legend told us about his favorite toys and why thinking hard about play matters.
When I think of toys, the first thing that comes to mind isn't Wyclef Jean. Why did you decide to work with The Toy Foundation?
Giving back to the community and inspiring the next generation has always been a priority of mine. As a child, musical play was incredibly important in shaping who I am today and when The Toy Foundation reached out and shared their mission, I was immediately on board. I'm excited to support their work in bringing the power of play to all children to inspire, comfort, and help them find their own voice just as play helped me find mine.
What kind of toys did you play with as a kid, and what stories did you tell with them?
My toys were anything I could make music with, and instead of telling stories I played beats. I'm lucky to have grown up in a musical family, with access to drums and guitars that I played with and composed music with more and more as I grew older.
Toys today are far more inclusive than back when we were growing up. When you look at toys today, so many are made more for the adults than the kids. Has anything stood out to you as you started to look through the list of Toy of the Year nominees and other categories that you wish you had when you were little?
Absolutely, as I look at the list of finalists for the 2023 Toy of the Year Awards I'm amazed by the variety of toys and creativity they offer. The wide assortment of cultures and backgrounds among the Doll of the Year finalists and the Game of the Year finalists with interactive and other unique components to make it a fun, entire family game night stood out most to me. There is not one toy that stands out from the rest, but I can tell you this finalist list will be my holiday shopping list.
Your daughter, Angelina Claudinelle, just graduated high school. What was it like to see her on that stage and achieve this milestone?
I'm so incredibly proud of my daughter for all the hard work she has done and the strong woman she has become. Like any parent, it's hard to let go but she is ready to do her thing in the world and she knows I'm always here to support her.
What was the biggest change you had to make in life when you first became a father?
Your world changes completely, in all the best ways, when you become a father. Immediately, your number one priority becomes this baby girl and everything else becomes less important. My wife and I always brought Angelina with us for our work or in our travels, to give her these experiences and create wonderful family memories.
How do you keep your music fresh and in the now?
I like to keep my life interesting and experience everything the world has to offer. Learning something new, traveling somewhere I've never lived before, partnering with high-impact organizations, and meeting new people always inspire my music.
I am also lucky to have and continue to work with some incredible talent in the music industry and hearing their stories or ideas or collaborating on a project together are other ways that help me keep my music fresh.
Your older work is just as popular today, but it feels like you're still reinventing yourself today, with writing, podcasting, and everything else you do. What's keeping your artistic passions burning today?
I like to keep myself busy, it keeps life interesting! Going back to your earlier question, in order to stay fresh and create music and other content my audience will enjoy I have to change it up. Sharing ideas and collaborating with new and old colleagues gives me new inspiration, as well as partnering with brands, like The Toy Foundation, which allows me to learn about an industry I don't work in every day, meet new people, and bring my music to a new audience.
Why was there never a Wyclef Jean action figure or doll? Any chance we could see one happen sometime, and if so what would it look like or do?
There is no Wyclef Jean action figure or doll in the works but maybe it's something I should start thinking about!