Ranking All The Kens From Barbie, Based On How Much You'd Want To Have A Beer With Each
It doesn't matter which Ken is the best. Which one would you want to hang out with?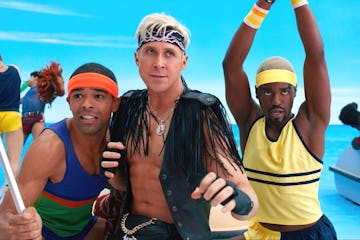 Warner Bros
Barbie is here. The much-anticipated big-screen imagining of teen model turned girl boss, directed by Greta Gerwig and starring Margot Robbie as the titular doll, has finally landed theaters after a solid year—give or take 60—of publicity after paparazzi shots of Robbie and Ryan Gosling as Ken rollerblading along Venice Beach did the rounds in 2022.
Barbie follows Robbie's Stereotypical Barbie as she embarks on an existential crisis, and into a sci-fi adventure that trips dimensions. Weird Barbie (Kate McKinnon), who became that way because her human proxy played with her too hard, holds the key to the real world, which Barbie must journey to in order to meet her owner and restore balance to the two worlds. Bottomline: This ain't your average Mattel fare. Though kids can see the movie, the themes are big and deep. (Check out our parent's guide to the Barbie movie here.)
So, what about Ken? The dads are kinda invested in Ken, right? Well, Ken is a big part of the story and foil to Barbie's previously perfect life consisting of "blow out part[ies] with choreographed dance moves and bespoke songs" by Dua Lipa (who plays multiple mermaid Barbies) every night. Ken follows Barbie to the real world where he finds that men—Kens—run everything. And he likes it. While Gosling might be doing the most as Stereotypical Ken to Stereotypical Barbie, that doesn't place him at the top of this ranking of Kens. Ken foiled again! As the Mattel CEO, played by Will Ferrell, says, "Ken isn't something we're worried about."
But we're worried about Ken! Or more specifically, we're worried about which version of Ken in Barbie is actually the Ken we'd want to hang out with. Which Ken would make a good drinking buddy? Which Ken would actually listen to your problems, or at the very least, be someone you could stand to be your guy friend? Based only on their appearance in this movie, here's a full ranking of the Kens, based on how much we'd actually want to have a beer with each. Mild spoilers for Barbie ahead!
9. Mer-Ken (John Cena)
When member of the wrestler-turned-movie star pipeline John Cena was revealed as being part of the Barbie cast earlier this year, pundits wondered which Ken he could possibly be playing. He makes a brief cameo as Mer-Ken to Dua Lipa's aforementioned Mermaid Barbie. He seems cool, but not exactly
8. Scott Evans
Perhaps one of the lesser-known castings, Scott Evans plays a Ken who is deeply invested in the Ken—and equine—agenda. Evans has previously appeared alongside Issa Rae (President Barbie) in Insecure. Does he make a big impression here? I mean, do you want to get a beer with Horse-Ken? If you're into horses then yes. This is your Ken. If you're not big on horses, we're ranking this Ken kinda low on the drinking buddy scale.
7. Ncuti Gatwa
At least we have Doctor Who to look forward to as the breakout performance from star Ncuti Gatwa. In this film, he joins some old friends from a certain Netflix hit; Emma Mackey as Physicist Barbie and Connor Swindells as a lowly Mattel employee. Sadly, he doesn't get much to do here. In real life, we'd want to hang out with Gatwa. And when he becomes the next Doctor Who in late 2023, he's going to be great. Right now, he's simply not on screen enough for us to know how cool this Ken is.
6. Simu Liu
If you know (about Shang-Chi star Simu Liu's MRA past) then you know (that he makes a perfect fit for insecure Ken).
5. Kingsley Ben-Adir
While Allan (who we'll get to in a second) may have been marketed as Ken's best friend ("All of Ken's clothes fit him!", it's Kingsley Ben-Adir who's putting in the work here as Ken's right-hand man. Gosling even bestows him with his signature fur coat. If you're watching Secret Invasion, you know that Kingsley Ben-Adir is a huge badass. In Barbie, we were kinda hoping he was gonna lead a Skrull revolution in this universe, too.
4. Palm Beach Sugar Daddy Ken
This is a discontinued Ken deep cut! In real life, Palm Beach Sugar Daddy Ken was a very real 2009 50th anniversary of Barbie collector's item, replete with a fluffy shih tzu accessory named Sugar. Get it? This Ken is picking up all the drinks at the bar, and we love him.
3. Earring Magic Ken
If Sugar Daddy Ken wasn't coded as fabulous enough for you, then allow Earring Magic Ken to do the honors. Decked out in mesh, leather, and an earring. That's an earring, right? We're not implying it could be anything else! Are we?
2. Ryan Gosling
Sorry Gosling! While the movie does convince us that Gosling is the quintessential Ken, we can't rank the Gosling Ken number one. The editor and writer of this piece disagreed with each other on the ranking of the Gosling Ken, with the original ranking putting him much lower, at number four. However, as that ultimate beta male, Ryan Gosling's Ken is pretty close to being a Ken you'd actually want to have a beer with. This isn't to say you can hang out with this Ken all night, but he's reliable and predictable. Which is kinda what you want.
1. Allan
Justice for Allan has finally been granted! The much-maligned, oft-discontinued Allan shines here, capitalizing on Michael Cera's trademark weirdness in a storyline that gives due process to Ken's "buddy." Based on a real, somewhat rare doll, Allan was introduced in 1964, as "Ken's buddy." He was named after Mattel co-founder Ruth Handler's son-in-law, and briefly came back twice, in 1991 and 2002. Allan was frequently paired with Midge, and at one point, they even had a family, which was pretty controversial.
But, at the end of the day, Allan has that essential Allan-ness. He was Ken's buddy at the start and now we want him to be ours. He can borrow all your clothes and you can borrow his. Allan is the man you can text in a pinch, the guy who makes you feel real, because, of all the Kens, he is, himself an actual, normal dude.
Barbie is out in theaters now.