30 Years Ago, Weird Al Dropped Every 12-Year-Old's Favorite Album
Alapalooza still has plenty of dinosaurs.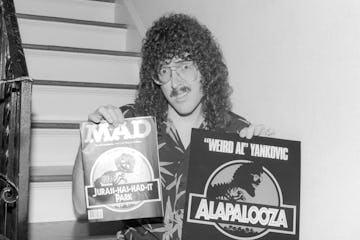 Lester Cohen/Archive Photos/Getty Images
The Fatherly Turntable
We may receive a portion of sales if you purchase a product through a link in this article.
"Weird Al" Yankovic likes to say that his heyday is whenever the person analyzing his music was twelve years old. So if you were born in 1981 congratulations! Alapalooza, your favorite "Weird Al" Yankovic album, just turned thirty years old! Alapalooza was released a year after 1992's Off the Deep End and that monster first single "Smells Like Nirvana" resurrected Al's career after the dual debacle of Al's failed 1989 film vehicle UHF and its equally unsuccessful soundtrack album. Although UHF is now seen as one of the triumphs of Yankovic's career, it was dismissed as a critically reviled flop at the time of its release. Off the Deep End was the true comeback, and Alapalooza — which came out on October 3, 1993, was a kind of victory lap.
The reason why this Weird Al album endures is that Alapalooza is unusually attuned to the needs of twelve-year-olds. It does, after all, feature multiple singles involving dinosaurs, one of which has an iconic claymation stop-motion music video. If "Smells Like Teen Spirit" is the hippest song Yankovic ever parodied, then the 1968 Richard Harris version of the Jimmy Webb standard "MacArthur Park", which forms the musical basis for its leadoff single "Jurassic Park" might just be the squarest. And that's why he's so great. There is almost no way that kids in 1993 were familiar with the original "MacArthur Park," which is exactly why Weird Al's singular artistry was then and still is, culturally good for young people. The song Al parodied for his irreverent tribute to Steven Spielberg's blockbuster was, of course, older than a lot of Al's fans. As with the Empire Strikes Back-themed "Yoda", which parodied The Kinks' "Lola" and the Phantom Menace riff "The Saga Begins", which spoofed Don MacLean's oldies staple "America Pie", Al needed one of the quintessential story songs to spin a yard as involved as the plot of Jurassic Park.
The cult of "Jurassic Park" is largely the cult of its Grammy-nominated video, which was created largely by twenty-two-year-old Mark Osborne, an animation protege who would go on to direct Kung Fu Panda and work extensively on SpongeBob Squarepants, and Scott Nordlund. "Jurassic Park" didn't get a lot of play on MTV because a symphonic parody of a Richard Harris song from 1968 would sound awfully strange sandwiched in between Soundgarden and Mariah Carey videos.
It did much better on Canada's MuchMusic and eventually on YouTube. On a personal note, I know that the "Jurassic Park" music video was a crucial gateway to Yankovic's music for my own children. Let's face it, having small kids watch this video before the actual Jurassic Park movie is probably the most responsible thing a parent can do.
"Jurassic Park" would find its true, lasting home on streaming, a form of media that did not exist when the song was released. The movie song has taken up so much cultural real estate that it's easy to assume that it at least cracked the top 40 when it never made it into the Top 100. Needless to say, if the 12-year-olds of the world were in charge of pop charts the song would be a number-one hit for months.
"Jurassic Park" found Al's mind and imagination once again fixated on movies but the album is even more obsessed with Yankovic's trusty muse television and the places where television and music overlap and intersect.
For the album's second dinosaur-themed single, meanwhile, Al once again turned his attention to the schlock television of the distant past and the schlock cinema of the future with "Bedrock Anthem", a dual parody of Red Hot Chili Peppers' anthem "Under the Bridge" and "Give It Away" that pays tribute to The Flintstones, a mediocre cartoon that was already in the process of being turned into a mediocre 1994 blockbuster movie.
It's an inspired choice. After all, Fred Flintstone was babbling meaningless gibberish like "Yabba Dabba Doo" thousands of years before Anthony Kiedis' nonsensical blathering.
In my epic book about "Weird Al" Yankovic's life's work, I write about songs of opportunity and songs of inspiration:
"Bedrock Anthem" is a quintessential song of opportunity. It's a mercenary single that cross-pollinates the public's love, and familiarity with The Flintstones and their inexplicable affection for the Red Hot Chili Peppers.
The TV song that follows "Bedrock Anthem", "Frank's 2000 Inch TV" is a true song of inspiration. It's a heartfelt pastiche of R.E.M's jangly early work that explores one of Al's favorite themes in the surreal emptiness of consumer consumption.
It's a pitch-perfect tribute rooted in a love of television as strong as its hatred of the medium and the mindless conformity it breeds. "Frank's 2000 Inch TV" is one of the best songs Al has ever released but I doubt he even contemplated releasing it as a single.
A similar combination of affection and righteous disdain fuels "Talk Soup", an exercise in mid-period Peter Gabriel-style funk that was recorded as a theme song for E's snark fest of the same name but rejected by the channel.
The album's final track is also its final song rooted in the overlap of television and film. For his requisite polka Al chose to riff on a hit song from 1975 that had recently roared back into relevance when it was very prominently featured in Wayne's World, a hit movie spun off from Saturday Night Live a long-running television show.
Alapalooza closes with "Bohemian Polka", a polka deconstruction of Queen's timeless exercise in over-the-top musical melodrama. If the singles are a little safe and, in the case of the Billy Ray Cyrus diss "Achy Breaky Song", a little mean, the originals are full of glorious surprises.
"Traffic Jam" will be of special interest to Yankovic fans because it finds Yankovic paying reverent musical tribute to Prince, most specifically "Let's Go Crazy." The purple-loving pop icon famously never let Al parody any of his songs. Why? Who knows? Prince was nothing if not a complex human being.
The album's other original triumph is the AC/DC tribute "Young, Dumb and Ugly." The sadistically catchy tune punctures the pomposity and pretension of pop mythology with a tongue-in-cheek celebration of the mildest and milquetoast brand of pseudo-rebellion, the kind that involves undertipping and swimming after a meal rather than narcotics or violent imagery.
Alapalooza has a lot to offer kids as well as dads. "She Never Told Me She Was a Mime" is a dad joke in song form. It's the kind of groaner you reluctantly tolerate rather than enjoy but it's also a testament to Al's commitment to not letting age, success, and experience keep him from being as ridiculous as possible.
Given Alapalooza's obsession with television and film, it seems fitting that three decades later Al has been nominated for multiple Emmy awards for Weird: The Al Yankovic Story, a rightly acclaimed movie that is technically considered television, since it airs on the Roku Channel.
That speaks to the consistency as well as the focus of Yankovic's life's work. The five-time Grammy winner returns again and again to a series of pervasive themes and obsessions. He may be less profile these days, but he just keeps getting better with time. Like all of his great records, Alapalooza reminds us that having the sense of humor of a 12-year-old is sometimes, the best way to be.