29 Years Ago, One Game-Changing Album Ushered In A New Era Of Rap Music
How Warren G regulated us forever.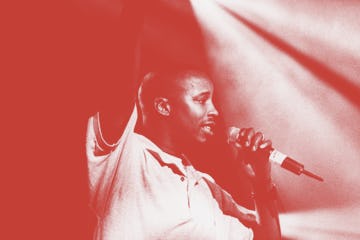 Paul Bergen/Redferns/Getty Images
The Fatherly Turntable
We may receive a portion of sales if you purchase a product through a link in this article.
By the time Warren G's debut studio album Regulate... G Funk Era was released on June 7, 1994, its title track had gained tremendous popularity over six weeks. The "Regulate" single had been introduced to the masses through the film Above The Rim's soundtrack, bringing anticipation for Warren G's solo album to a boil as summer heated up. It was a defining moment for rap music,a moment when Warren G blurred the lines of rap and R&B to create a subgenre that captured a chill West Coast vibe while still utilizing language and storytelling in the vein of 1990s gangsta rap. Both laid back and hardcore, G Funk managed to split the musical atom. And, twenty-nine years later, Regulate... G Funk Era still slaps.
The album debuted at #2 on the US Billboard Top 200 Albums chart, selling 176,000 in its opening week. Eventually, it would reach certified triple platinum status by selling over 3 million copies in the United States. In addition, two singles from the album — Regulate and This DJ — picked up Grammy nominations, and Nate Dogg's appearances on the album also vaulted him into music stardom.
Most tracks on Regulate feature beats that sound like an early precursor to today's popular lo-fi subgenre, with Warren G's singsong rap lyrics and soulfully sung hooks over top. With a signature bright and easy tone, Warren G's voice fits perfectly over the jazz and soul samples from the likes of Don Julian and Lou Donaldson that are sampled throughout the album. While not a West Coast rapper, it's similar to what one might expect from Chance the Rapper today.
But Warren G was leaving his fingerprints on rap far before he started releasing his own music. In 1982, 12-year-old Warren Griffin III went to live with his father and his new wife after living with his mom for eight years following his parent's divorce. One of Griffin's stepsiblings who would help make up the newly blended family was a young man named Andre Young, who would later come to know as Dr. Dre.
It was Dr. Dre who got Warren G into music, teaching him how to use a drum machine to make beats that Warren would use in songs for a fledgling rap group he'd started with his old friends Nathaniel "Nate Dogg" Hale and Calvin "Snoop Dogg" Broadus. The trio amicably dissolved when Warren G connected Dr. Dre with his group mates. However, they were all still working together on other various projects, including both Dr. Dre and Snoop Dogg's solo debut albums.
Interestingly enough, while G Funk is considered a distinctly West Coast style of music, Regulate…G Funk Era was released by Def Jam Records, which was based out of New York City and, at the time, primarily published music from East Coast artists.
The "Regulate" single was so popular that it was Def Jam's biggest hit single for a decade. In addition to being a hit in the United States, it saw greater success internationally than most rap records, which Def Jam co-founder Russell Simmons credits in his biography to the fact that "Warren's music was worldwide because the melody plays no matter what the language."
While Warren G would release five more solo albums following Regulate…G Funk Era, none would approach its commercial success. Which is, unfairly, probably explains why he wasn't included in the Super Bowl LVI halftime show featuring Dr. Dre, Snoop Dogg, Kendrick Lamar, Eminimen, and Eminimen that some — most notably prominent ESPN personality Bomani Jones — dubbed G Funk halftime.
And yet, Warren G's fingerprints were all over the historic first Superbowl halftime show centered entirely around hip hop. He may not have been the brightest star to emerge from the mid-90s LA rap scene, but he was undoubtedly one of the primary architects of its ongoing success and cultural impact.