15 Years Later, The Greatest Stop Motion Duo Will Finally Get A New Movie
Yes! Wallace and Gromit are back.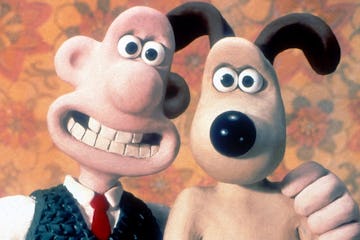 Aardman animation
Over, thirty years ago, in December 1983, the second ever Wallace and Gromit animated short, The Wrong Trousers, was released. And now, in the year of that anniversary, Aardman animation has confirmed that the celebration will happen concurrently with the production of a brand-new Wallace and Gromit full-length future film.
But, here's this thing, it's somehow been 15 years since a new Wallace and Gromit short has come out. It was way back in 2008 that A Matter of Loaf and Death was released, and since then, other than some very small appearances on Wallace and Gromit's Cracking Contraptions and World of Inventions (2010), we haven't seen either of these guys. So, the announcement of the new feature-length movie is great news. But it's also a good time to revisit the previous Wallace and Gromit adventures., as well as other great animated projects from Nick Park.
The new Wallace and Gromit movie doesn't have a title yet, but it's expected to go straight to Netflix sometime in 2024. The upcoming Netflix film finds Gromit once again being forced to save the day when his owner invents a "smart gnome" that develops a mind of its own and runs amok. Aardman Animation is also working on an interactive, single-player VR game called The Grand Getaway along with plenty of other endeavors celebrating thirty years of The Wrong Trousers, including merchandising tie-ins and performances of the film in the UK accompanied by a live orchestra.
Notably, this will be the first Wallace and Gromit film since the death of Peter Sallis, who provided the voice as well as the soul of Wallace since his modest beginning as a film school project. It's hard to overstate the importance of Sallis to Wallace and Gromit's brilliance and popularity. It's remarkable, for example, that Sallis has such incredible chemistry with an animal that does not talk and does not need to talk in order to communicate or be unforgettable. Sallis made Wallace an irresistibly optimistic, likable, optimistic soul. And yet, the stories often took things in a gloriously dark direction.
The Wrong Trousers, for example, begins as a look at the competition for Wallace's affection that ensues when he takes in a penguin, the enigmatic and sinister Feathers McGraw, as a boarder and the flightless bird sets about replacing Gromit's place in Wallace's heart as well as his home. The penguin turns out to be an arch-villain intent on abusing a pair of mechanical Techno-trousers to trick Wallace into stealing a diamond from the Natural History museum. The most recent Wallace and Gromit short, 2008's A Matter of Loaf and Death, is even darker. It ends with a female serial killer of bakers intent on making poor Wallace her thirteenth victim plummeting to her death and then being devoured by crocodiles.
Considering the gothic, sinister, Hitchcockian overtones of many of Wallace and Gromit's shorts, it's not surprising that its sole feature film outing to date, 2005's Oscar-nominated Curse of the Were-Rabbit — one of the best kids movies ever — was a horror comedy tribute/spoof of classic Hammer fare.
In addition to Wallace and Gromit, Nick Park is also responsible for the 2000 classic, Chicken Run, which is also having a renaissance. Like the upcoming Wallace and Gromit movie, the long-awaited Chicken Run sequel — Chicken Run 2: Dawn of the Nugget — will hit Netflix on November 10, 2023. (The popular Shaun the Sheep series is also a spinoff of Wallace and Gromit).
Aardman Animation is synonymous with excellence like early Pixar and Disney because it pursues a strategy of quality over quantity. It's been fifteen years since the last Wallace and Gromit short, 2008's A Matter of Loaf and Death. More Wallace and Gromit in the world can only be a good thing. And if the past is any indication, the upcoming Wallace and Gromit film is almost guaranteed to be another masterpiece from artisans willing to take their sweet time to create something worth the wait.
Where to Stream Wallace and Gromit Movies
The following four Wallace and Gromit shorts are all streaming on Amazon Prime as part of Wallace & Gromit: The Complete Collection. Each short is listed as an "episode."
The fantastic movie, Wallace & Gromit: The Curse of the Were-Rabbit, is currently streaming on Peacock. Although the new Wallace and Gromit movie is coming to Netflix in 2024, there are no Wallace and Gromit movies on Netflix right now. Chicken Run is also streaming on Peacock.