These Are the 8 Best Nintendo Switch Games For the Whole Family
Gather around and mash those buttons.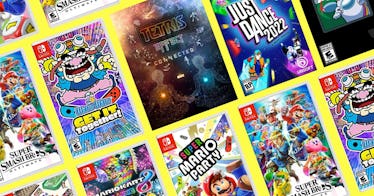 Whether you're hosting a party or just looking to level up family night, Nintendo Switch has more than enough options to entertain all types of players. From Nintendo classics that have been perfected on the Switch like Mario Kart to all-new party games that will test seasoned gamers like Clubhouse, these party games will deliver on the fun. So charge up the Joy-Con controllers, and bring along one, two, or seven others with you, because party night means game night.
Super Mario Party
Super Mario Party, like Smash Bros. and Mario Kart, has been a recurring title in Nintendo's history. With every new console iteration, the game evolves as Nintendo perfects the formula in every new edition. Party is a turn-style game where you choose characters throughout the Mario-verse, play on a board game, roll the dice, and work through obstacles unique to each level. Every character has their own specialized dice they can use, which adds an element of strategy. Between every turn, all players take part in mini-game competitions which payout in coins pitting everyone closer to the mainboard prize of being the player to purchase the most stars. In addition to the main board game event, there are other multiplayer games within, including a long kayaking game (it's harder than it sounds), and taking a page out of Just Dance, a mini-dancing game. All of it challenges your hand-eye coordination and in-synch collaboration skills. If you're looking for a larger mix, a new Party game is on the way this month, Mario Party Superstars, which promises more boards and hundreds of new mini-games.
Mario Kart 8 Deluxe
The battle-tested classic of Mario Kart is a surefire party hit. The rules haven't changed from the classic iterations: the first one across the finish line wins. Deluxe 8 gives players more characters (including the ability to create your own Mii character) and more options on what to ride (wagons, scooters, and motorcycles) and how to ride them (a deep selection in wheels and parachutes). In addition to that variety comes 48 tracks both new and from Kart's past. And of course, best of all, are the tools you can use and abuse on the race track to give you an edge. From the classic banana peel to the turtle shells, Kart keeps the action fast whether you're playing co-op or in a party of four.
Clubhouse Games 51 Worldwide Classics
Pick your poison! Quite possibly the king of party games, Clubhouse has something for everyone! Taking from 51 real-life games that are all perfectly ported into the Switch all while excellently taking advantage of Joy-Con tech. Play classics like darts, checkers, dominos, and air hockey to more complex worldwide favorites games like Mancala, Texas Hold'em, and the card game War. Whether you want to teach your kids something new or give a good excuse for grandma to pick up the controller, this game has something for everyone. Plus, if you're new or can't remember the rules to any particular game, there are brief how-tos that can help break in any newbie.
Among Us
There is at least one imposter in the group. Among Us takes a simple concept: one person is randomly chosen to kill everyone in the group and must remain undercover, while the others struggle to figure it out. Among Us isn't just a trendy game that struck big during the pandemic, it won The Game Awards' Best Multiplayer Game in 2020. So hop online with friends or host a local session as this game can carry 4-15 players at once. One thing to keep in mind, Among Us, originated as a free mobile and PC game, so that's another option for you and your gang want to steer clear of the steep $5 route on Switch.
Just Dance 2021/2022
Serious dancers only! With a library spanning the biggest pop hits from the last few years (and today), and dance moves that vary from beginner to challenging, Just Dance is fun for any family looking to let off some steam all while listening to songs you love (yes, the "Baby Shark" song is in there–although it should be said you have to pay extra for Just Dance Unlimited, which gives you an even larger library of songs through a subscription). The game tracks movement from the handheld Joy-Con controllers, meaning you can completely fake out the game and literally sit out the Harry Styles playlist and never get off the couch, but where's the fun in that?
Tetris Effect Connect
Tetris Effect Connect takes one of the greatest games of all time and elevates it to an entirely new level. The classic game is still there, but Effect builds around the gameplay, with every line clear becoming a visual crescendo of vibrant graphics and an amazing soundtrack to match. There are various modes of play, including Journey, a solo player campaign where you have to clear the stage to move on, or Zone which varies the gameplay by freezing dropping blocks. But you're here for a party. Tetris Effect can connect up to 8 players (or 3 players all connected via 3 Switch consoles), where you can battle across 30 stages.
WarioWare: Get It Together
If you're not looking for long-form play sessions like Mario Party (say about 60 minutes or more) then WarioWare can fulfill your quick multiplayer fix. The game pits players in random micro-games, each with a different and distinct objective. However, every character within the game has a very unique ability that can either help or hurt the objective. To compound all of these factors into a more complicated mess is how every level happens in seconds. The game is absurd and it makes for an incredibly delightful experience that tests players to think fast and move even faster. The game is undoubtedly fast and fun, but if you're looking to sink your gaming teeth into something with more depth and more variety then look to Super Mario Party.
Super Smash Bros. Ultimate
Looking for a battle? Ultimate is the biggest Smash game yet. Choose up to 74 characters from various games including Nintendo classics, and others like Street Fighter, Pokemon, Metal Gear, and recently Kingdom Hearts. In co-op mode, up to eight players can smash across 100 different stages for battle supremacy. The classic beat'em up game on the Switch is surprisingly dense with loads of options to choose from, from more battle-tested players like Spirit mode (which is where you select one character, but you can borrow other character's powers) and there's even a wide array of features to unlock. But if you want to just battle, well then step right up.